AMY SCHUMER – STRICTLY EXERCISE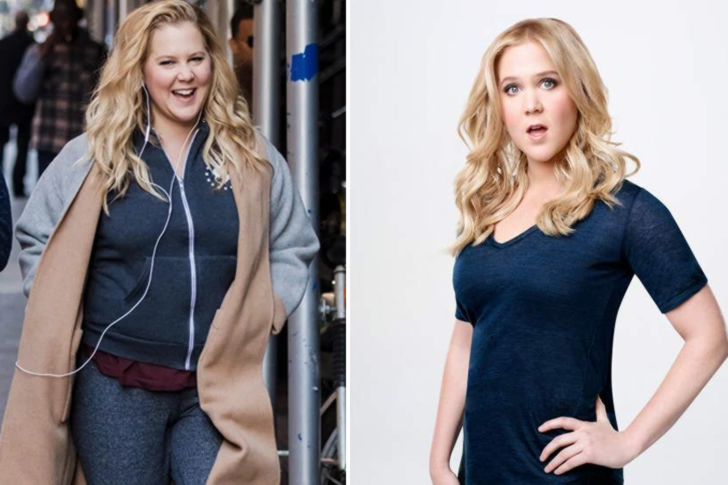 Standup comedian and actress Amy Schumer, who gained widespread recognition after appearing in the standup comedy reality competition,?Last Comic Standing, has often made light about her weight onstage and onscreen. But many were surprised to see that she did, in fact, lose weight a few months after giving birth to her son. Schumer revealed that she lost 10 pounds but didn't exactly share what she did that made her lose weight. We can speculate, however, that it was exercise, since Schumer has, on occasion, posted herself working out. To her credit, she's also been able to lose weight in the past for a role, so we think she'll have no trouble keeping it off this time.
Somehow, Amy manages to insert comedy even in the supposedly serious events of her life. Let's backtrack once again to her motherhood journey. She named her son Gene and for his middle name, the couple initially gave him Atell to honor fellow comedian Dave Attell. After realizing that "Gene Attell" sounded like "genital," they changed it to David, instead.
JESSICA SIMPSON – WEIGHT LOSS PROGRAM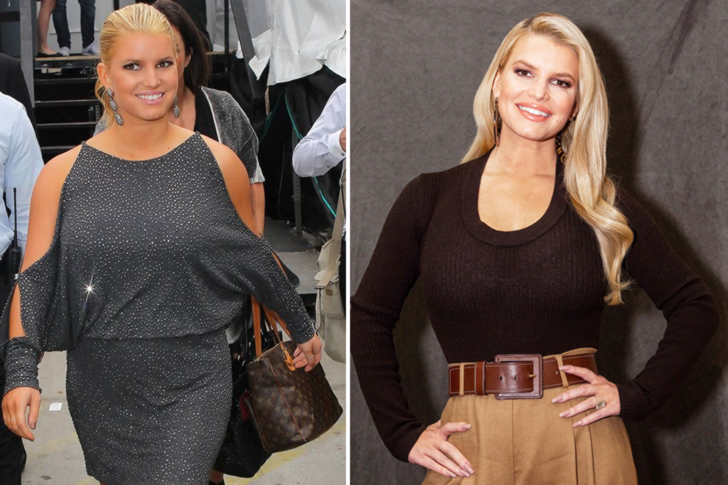 Singer, actress, reality television star, and highly successful entrepreneur, Jessica Simpson, who was catapulted to fame after the release of her album?Sweet Kisses?in 1999, was, to a huge degree, one of the sexiest celebrities during the peak of her career. Unknown to some, Simpson began her singing career in their church choir as a child. At the age of 12, she auditioned for?The Mickey Mouse Club. The energetic child star sang?Amazing Grace?and danced to?Ice Ice Baby?as well.?Though she advanced to multiple rounds alongside Britney Spears, Christina Aguilera, and Justin Timberlake, she admitted getting nervous after hearing Aguilera, which eventually led to her loss. No biggie, though, because she made it to Hollywood, anyway.
She gained a ton of weight after and reportedly weighed as much as 240 pounds after giving birth to her third child. In 2019, however, Simpson debuted her new body, which sources report is 100 pounds lighter than what it used to be. How did she do it? Her trainer said it was a combination of diet, exercise, and strict adherence to his book,?Body Reset Diet.
ZACH GALIFIANAKIS – DIET, QUITTING ALCOHOL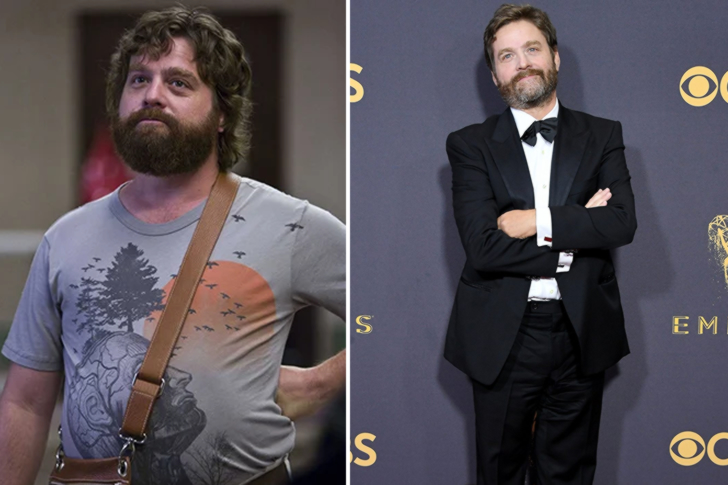 Actor, comedian and writer, Zach Galifianakis, who gained wider recognition for his show?Late World with Zach, and for starring in the comedy cult classic?The Hangover, surprised everyone during the 2017 Emmys by coming out much slimmer than he used to be. He says that one reason is that he's quit booze, but we're sure he did much more than that. Whatever investment he's made that's helped him shed the weight—which we're sure involved more than just quitting alcohol—needs to be shared by Zach, and it needs to be shared soon because we are simply dying to know.
We're thinking that maybe owning a farm helped him lose those extra pounds. Currently, Galifianakis has been splitting his time between his work and farming in North Carolina. We have reason to believe that he loves doing this, as he revealed in an interview how his farm is a place he retreats to get himself to think clearly.
LIZ TORRES -?GASTRIC BYPASS SURGERY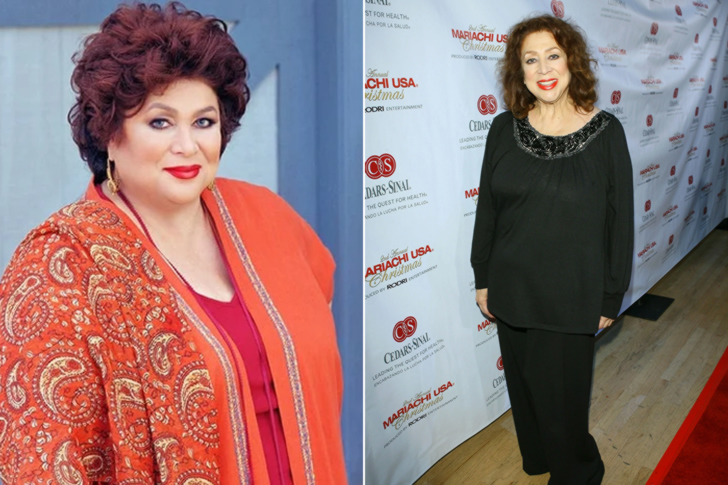 Actress, singer and comedian, Liz Torres, who's best known for playing Mahalia Sanchez in the hit comedy series?The John Larroquette Show,?was said to be almost unrecognizable when she appeared in the 2016 Netflix reboot of the?Gilmore Girls. Instead of her usual short, curly red hair, the actress playing Miss Patty now sported long, sleek layered dark tresses. Not to mention, she has definitely shed off a lot of weight.
Liz, to her credit, reportedly started losing weight way back in 2010, and shared that what pushed her to take her health more seriously was her age, saying that she thought her heart might just give up. There is not enough information that's been released about how Liz was able to lose so much weight, but many blogs have speculated that the actress had undergone gastric bypass surgery. Unfortunately, these rumors have yet to be confirmed by Ms. Torres herself.
RICKI LAKE – FITNESS AND DIET
Actress, television host and producer, Rick Lake, who, at 24, took a lot of credit for being the youngest female talk show host at the time she hosted?The Ricki Lake Show, was reportedly able to lose 100 pounds by coupling the Atkins diet with a strict exercise plan. She said she tried the services of a food delivery service, and restricted herself to 1,400 calories a day. She also credits the mountain of hours of dancing she's gone through to perform for the show?Dancing with the Stars?for much of her weight loss.
On January 1, 2020, Lake posted a photo revealing her new buzz-cut on her Instagram account. She also included a caption confessing how she's been dealing with hair loss that resulted from years of mental health issues, weight loss, pregnancy, and the use of hair chemicals, tracing it back to her successful career debut in the movie?Hairspray. Luckily, the celebrity assured her fans that she's embracing her new look and that her hair loss wasn't related to any other medical condition at all.
JONAH HILL – FITNESS AND DIET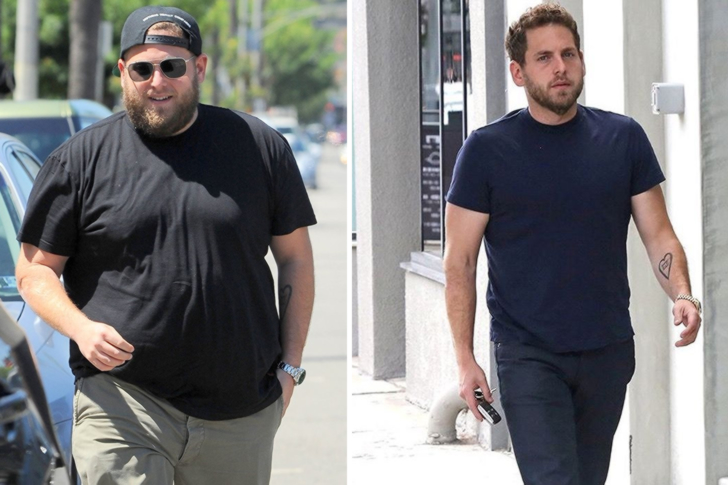 Actor, director, and producer, Jonah Hill, who, to his credit, graduated from starring in teen comedy flicks to starring in serious movies that get Oscar nods, must have found some serious motivation to lose weight somehow because the man is totally killing it. We're not sure if the new slim body he's sporting has anything to do with some role he'll be playing, but he definitely looks like he was able to shed a lot of pounds. His secret? Plain ol' diet and exercise. Indeed, Jonah shared that he seriously cut down on beer, which seems to have helped a lot.
Some of Hill's notable acting projects were in his comedic roles in the movies Superbad, Knocked Up, Forgetting Sarah Marshall, Get Him to the Greek, 21 Jump Street, This Is the End, 22 Jump Street, and?The Wolf of Wall Street.?For his performance in the latter film, he was honored with a nomination for an Academy Award for Best Supporting Actor.
MISSY ELLIOTT – FITNESS AND DIET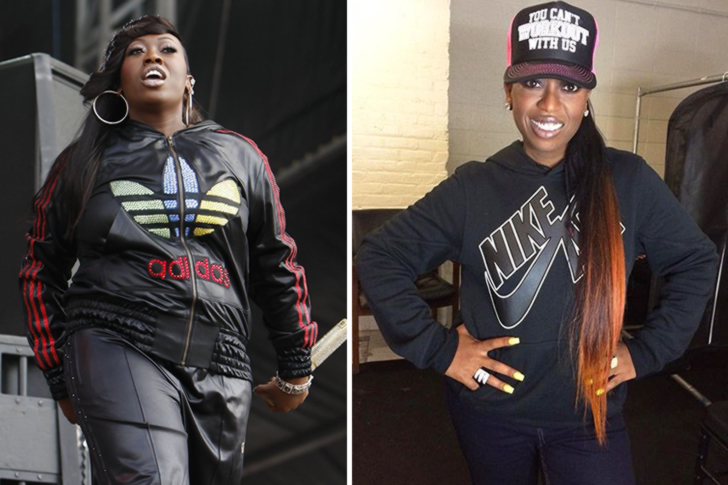 Rapper, singer, producer and philanthropist, Missy Elliot, who gained wider recognition in the 90s for her involvement with the R&B/hip-hop group Swing Mob, is another celebrity who credits diet and exercise for her dramatic weight loss. She shared on social media that she cut down on carbs, as well as juices and soda too. We have to say that the changes are really quite amazing. Indeed, she looks galactically different these days and is nowhere near the Missy Elliot of yore, who looked more than a few pounds overweight. She's proven that the simple act of cutting down on junk food can have a dramatic effect.
Recently, she released her new album titled?Iconology.?The rapper was inspired to write more uplifting songs and encouraged more dance music to counter mainstream trends, hence her latest singles. She also made efforts to appear on the official remix to Toni Braxton's?Do It?and Dua Lipa's remix?Levitating. If you ask us, she's certainly a supportive and generous music artist!
RACHEL FREDERICKSON – FITNESS AND DIET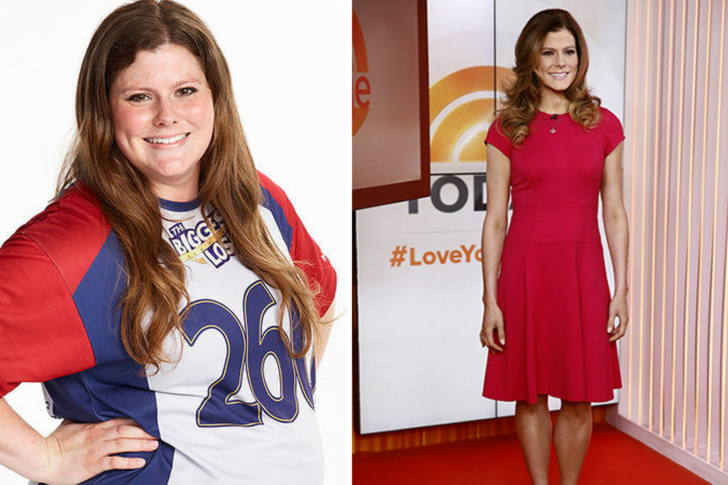 Rachel Frederickson, the winner of the hit reality series?The Biggest Loser, lost so much weight that experts believe she actually lost more weight than she needed to lose. She was reportedly 260 pounds when the show began but lost 155 pounds in seven months of diet and exercise, becoming underweight as a consequence. To her credit, she gave the fitness plan her all, reportedly exercising 6 hours a day and limiting her intake to 1,600 calories a day. New details have emerged that she was actually working out way more than was healthy and went overboard doing 3 to 4 fitness classes a day.
After winning season 15 of the show, Rachel admitted that she had a hard time handling the comments about her extreme weight loss. It was so tough that it resulted in her gaining some pounds back. Not minding the opinions of others now, she is happy, healthy, and in a good place.
MATTHEW MCCONAUGHEY – WEIGHT LOSS PROGRAM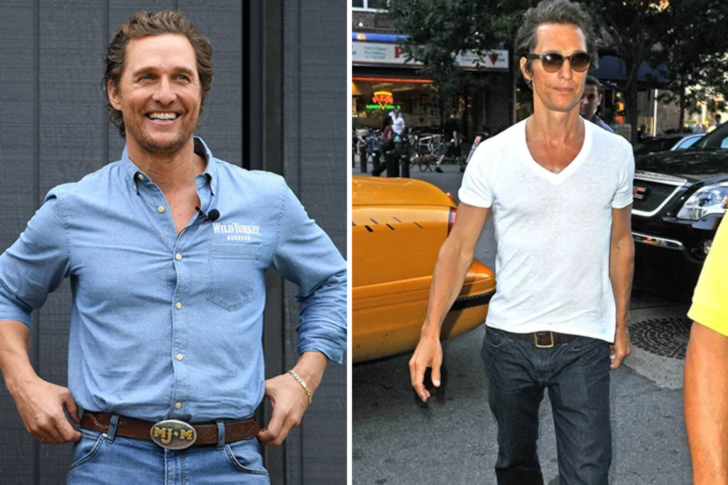 Multi-awarded actor and producer Matthew McConaughey, who gained widespread recognition for his role as an addled-brained teenage meathead in the coming-of-age comedy film,?Dazed and Confused,?is an actor par excellence. In fact, he's so dedicated to the craft of acting that he even dropped 38 pounds just to play the role of a sick man in the film The?Dallas Buyer's Club. How did he lose so much weight in such a short time? Well, in his own words, it was "90 percent diet." McConaughey shared that cardio works—and he did a lot of it—but diet, at least for him, was the investment that worked.
At present, McConaughey lives happily and privately in Austin, Texas, with his wife Camila Alves, whom he's been married to since June 2012. Together, they have three children: two sons and a lovely daughter. When he's not in Texas, he's probably at work and lives modestly in his trailer parked in Malibu.
KELLY CLARKSON – BALANCED NUTRITION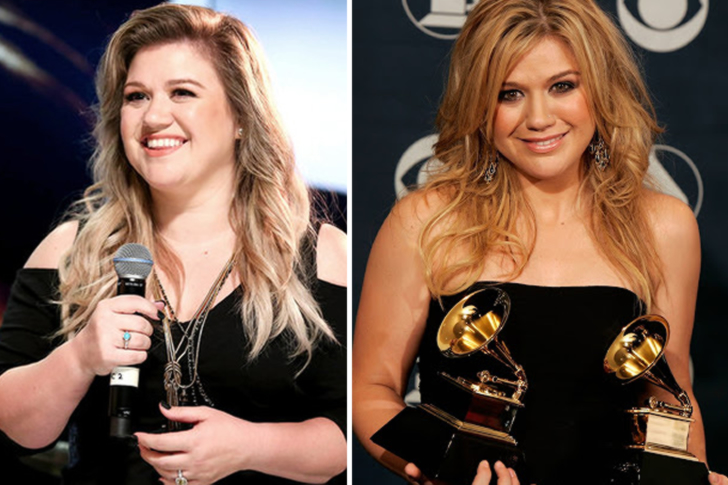 Singer, songwriter, occasional actress and author Kelly Clarkson was reportedly able to lose 37 pounds by following the advice in Dr. Steven Gundry's book, "The Plant Paradox: The Hidden Dangers in 'Healthy' Foods That Cause Disease and Weight Gain." Clarkson was quick to point out that the advice in the book might not work for everyone, but that it did for her specific case because she had an autoimmune disease that had contributed to her weight gain. And, we have to say, whatever she found in the book certainly seems to have worked because the weight loss she exhibited was, to a huge degree, quite dramatic.
We all know Clarkson as the first-ever winner of?American Idol?back in 2002. Her big victory earned her a deal with RCA Records and led to the release of her first single,?A Moment Like This. That same year, the song topped charts and broke through as the country's best-selling single. Fast forward to today, after several successful albums that sold more than 12 million copies worldwide, she remains to be the simple-living girl from Texas.
DAVID BANNER – FITNESS AND DIET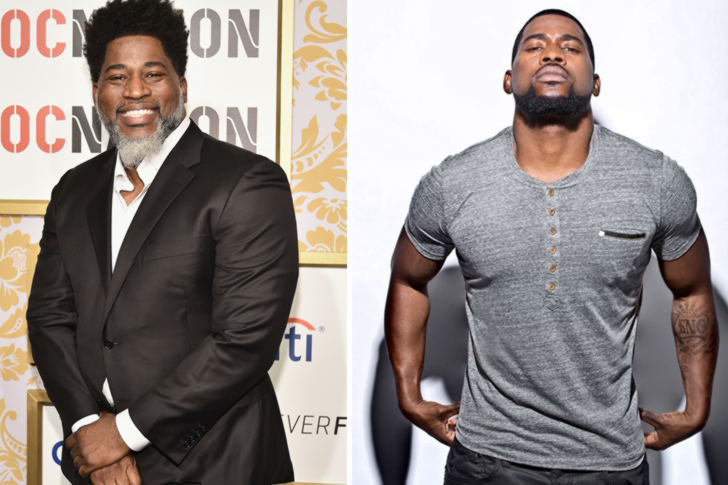 Rapper, actor, record producer and activist, David Banner, whose real name is actually Lavell William Crump, shared that he struggled with weight problems for years. The Mississippi-born rapper is a graduate of Southern University with a master's degree in education from the University of Maryland Eastern Shore. Some of his notable albums are 2003-released?Mississippi: The Album?and?MTA2: Baptized in Dirty Water, 2005-released?Certified, and released in 2008,?The Greatest Story Ever Told.
Due to his excessive weight, Banner started developing health conditions like sleep apnea and diabetes. Because he didn't want his various health problems to pile up, he decided to change his lifestyle—particularly his diet—and was able to shed 40 pounds. How did he do it? To a huge degree, it was Banner's decision to totally quit junk food. This, coupled with a strict exercise regimen, is what made the impressive difference.
SASHA PIETERSE – FITNESS AND DIET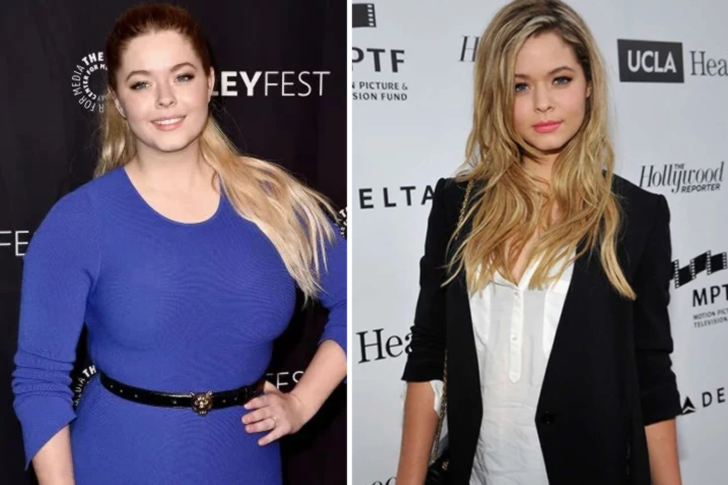 Actress, singer and songwriter, Sasha Pieterse, who gained wider recognition for playing Alison DiLaurentis in the hit television series?Pretty Little Liars, reportedly lost 37 pounds because she was afraid for her health. According to the actress, her weight gain—where she gained 70 pounds over two years—was due to some kind of hormonal condition. She fell into a depression because of it, and the nasty comments from the people around her certainly didn't help. Happily, she seems to be, to her credit, on the right track, having lost a lot of weight after joining the dancing competition?Dancing With the Stars.
Today, Pieterse is happily married to her long-term boyfriend, Hudson Sheaffer. Their wedding happened on May 27, 2018, and was held at Castle Leslie in Glaslough, Ireland. Her fans could probably recall that at the start of Dancing with the Stars season 25, she shared that she was diagnosed with a health issue, which was why she's gaining weight. Thankfully she's managing it fine and just recently welcomed her newborn son.
KATHLEEN TURNER – DIET AND EXERCISE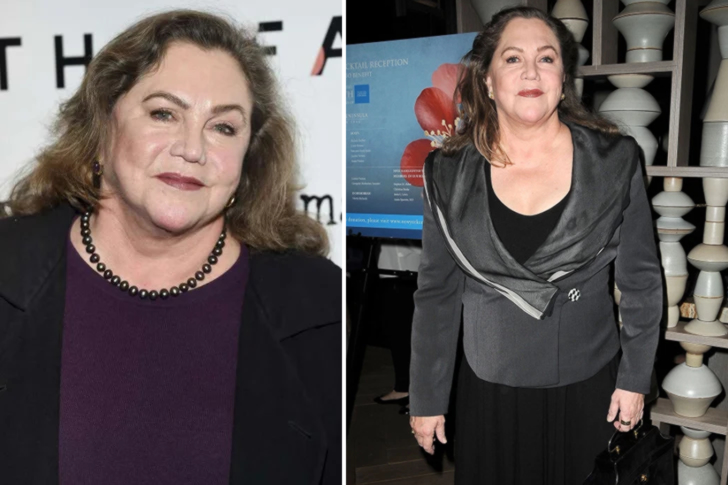 Multi-awarded actress and director, Kathleen Turner gained widespread recognition in the '80s for her roles in films like?Romancing the Stone, and?Prizzi's Honor. Some of Turner's notable projects that helped establish her in the industry included the films?Body Heat, The Man with Two Brains, and?Crimes of Passion.
She was one celebrated actress whose career was cut short after being diagnosed with rheumatoid arthritis. The treatment she took for her condition caused her to gain a lot of weight. She used to be athletic, but couldn't do anything to stop from ballooning as a consequence of her treatment. To her credit, she tried doing low-impact exercises like yoga and Pilates to slowly lose weight, while avoiding grains and other food that was bad for her condition. Eventually she was able to lose a lot of weight. We're not sure how much she's lost, but she's definitely much slimmer than she used to be.
SNOOKI – FITNESS AND DIET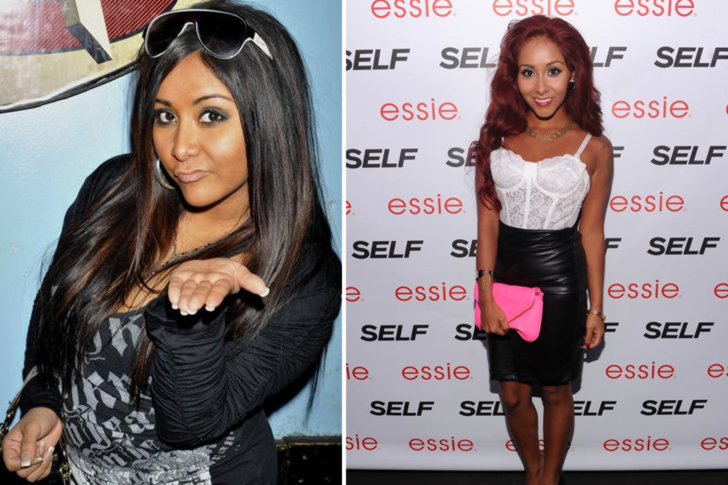 Reality television personality, author, dancer, and occasional wrestler, Snooki, who most will know as a former cast member of MTV's hit, but now defunct, reality series,?Jersey Shore, was reportedly able to lose 42 pounds in 2013 after giving birth to her first baby, Lorenzo. What was her secret? Well, she said she was able to lose a huge degree of weight because of breastfeeding, but she also restricted her intake to 1,300 calories a day and stuck to her exercise schedule, which was 4 times a week. Snooki shared, however, that almost half of the 42 pounds that she lost was from breastfeeding.
It was in the March 2013 issue of?Us Weekly?that Snooki announced her weight loss of 42 pounds after being pregnant with her first child. In case you're wondering, she's a proud mother of three today, having two boys and a lovely girl. After giving birth to her second child in November 2014, she married the father of all her children, Jionni LaValle.
LAUREN ALAINA – STRICTLY DIET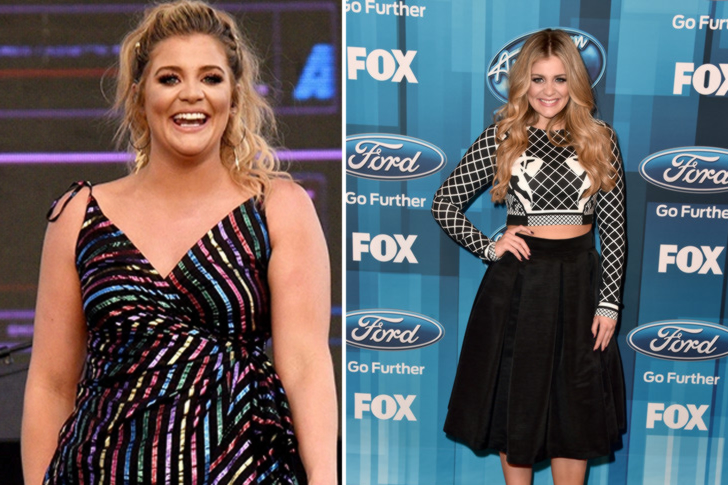 Actress, singer and songwriter, Lauren Alaina, who gained recognition for being a runner up on the tenth season of?American Idol, shared that she lost a whopping 25 pounds on?Dancing With the Stars. How did she lose it? Well, the rehearsals, she was quick to point out, were absolutely grueling. Apparently, none of her clothes fit anymore because she lost all that weight. The country singer is apparently, to her credit, able to keep all the weight off by working out six days a week and sticking to a low carb diet. Not bad for someone who once shared she battled with bulimia as a kid.
In between?American Idol?and?Dancing with the Stars, Alaina worked her best in the debut of her studio album?Wildflower, which was released in 2011. Her first No. 1 on the Country Airplay, however, happened only in 2017 after she released her second album,?Road Less Traveled.
DR. DRE – WEIGHT LOSS PROGRAM
Rapper, songwriter, record producer, hip-hop mogul and entrepreneur, Dr. Dre, who gained worldwide recognition as a member of the highly successful hip-hop group, N.W.A, was always known to be a moderately overweight man. But today, Dr. Dre looks ripped—he looks absolutely ripped! And he says all credit goes to, well, himself, for the decisions he's made to start living more healthily. Dr. Dre also shared that he exercises a lot these days, and it sure looks like it, given he's now got the body of a, well, bodybuilder. Indeed, people close to Dre say he is a gym rat, which is likely what's helping keep the weight off.
In 2015, Dr. Dre moved readers when he addressed his troubled past in a statement he made in?The New York Times. He recalled the young man he was, who succumbed to vices and had no real structure in life. Though this could never be an excuse for all the things he did, the artist does his best today to be a better man for his family.
SAM SMITH – NUTRITIONIST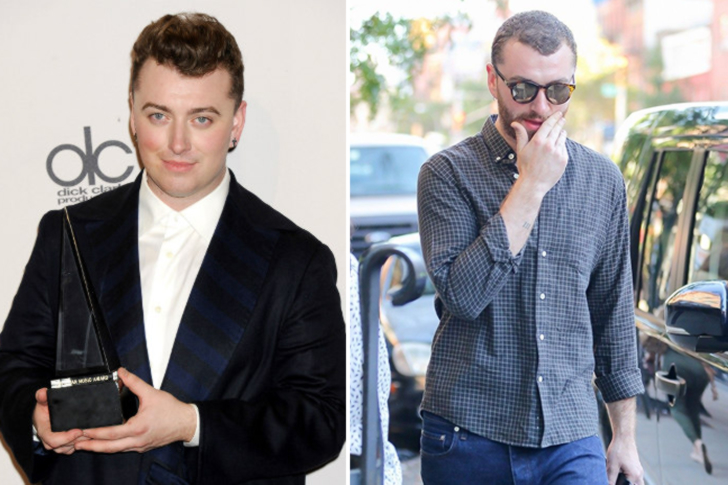 Singer and songwriter, Sam Smith, who became famous after being featured in various musical artists' singles that have peaked in the UK Singles Charts, was reportedly able to lose 50 pounds by committing to more than a few healthy habits. Indeed, he has lost so much weight that some are calling him "The Incredible Shrinking Sam." Not bad for someone who shared he struggled with emotional eating. In any case, Sam says that all credit belongs to Amelia Freer, the nutritionist who helped him lose all that weight, and was able to change his relationship with food.
After winning four Grammys, three Brits, three Billboard Music Awards, an American Music Award, a Golden Globe, and an Academy Award, Smith announced that he is non-binary, using they/them pronouns. They are also coming out with another album titled Love Goes, following the release of their new single,?Diamonds.
KEVIN FEDERLINE – STRICTLY DIET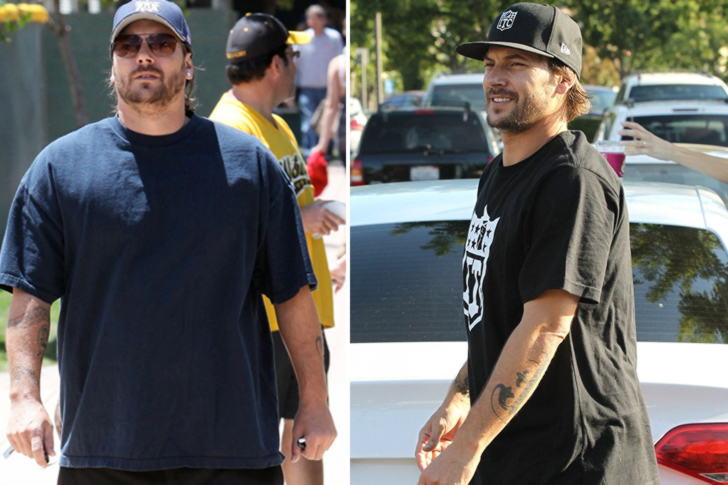 Rapper, DJ, and television personality, Kevin Federline, who gained widespread, albeit negative, recognition after reportedly becoming romantically entangled with pop icon Britney Spears, surprised everyone when he ballooned to more than twice his size, tipping the scales at 240 pounds. Well, he has, to his credit, being able to lose all the excess weight, and shared that it was when people started calling him K-Fat that he decided to do something about it. How did he lose weight? Well, K-Fed joined VH1's Celebrity Fit Club: Boot Camp in 2010, and it thankfully did him wonders.
There's more to him than being Britney's ex, though. Some of the things we know about K-Fed is that he was born in Fresno, California, on March 21, 1978, to parents Mike and Julie Federline. Federline was in ninth grade, he dropped out of high school and danced for a nonprofit organization called Dance Empowerment. For several years, he was a back-up dancer for Michael Jackson, Justin Timberlake, Destiny's Child, Pink, and LFO.
KELLY PRICE – FITNESS AND DIET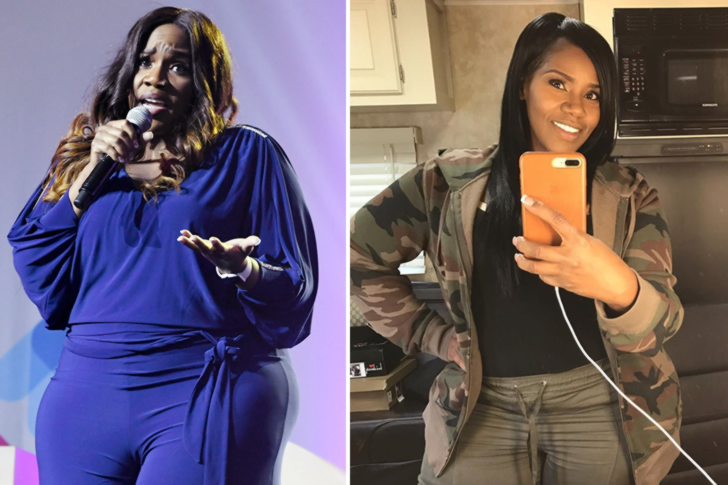 Singer and songwriter, Kelly Price, who started her career as a back-up and guest vocalist for Mariah Carey, had reportedly been on a remarkable weight loss journey. She's shared pictures of herself on her Instagram page, and, gee whiz, she really did lose a ton of weight. How did she do it? Well, she doesn't seem to be giving the specifics of how she did it, but from what could be gleamed online, it was because of a change in lifestyle. She also mentioned that she has, to her credit, completely changed her relationship to food, so no doubt dieting was—and still is—a major factor in her weight loss journey.
Though Price is not that known to some, she has quite a story about her journey. The talented artist began singing as a toddler in church, and her first professional engagement happened in January 1992 with George Michael at the Madison Square Garden. Then, in the rehearsal hall for the 1992 Grammy Awards, she was overheard singing a Mariah Carey song. Lucky for her, because that fateful moment led her to work closely with an idol.
TIMOTHY SPALL – FITNESS AND DIET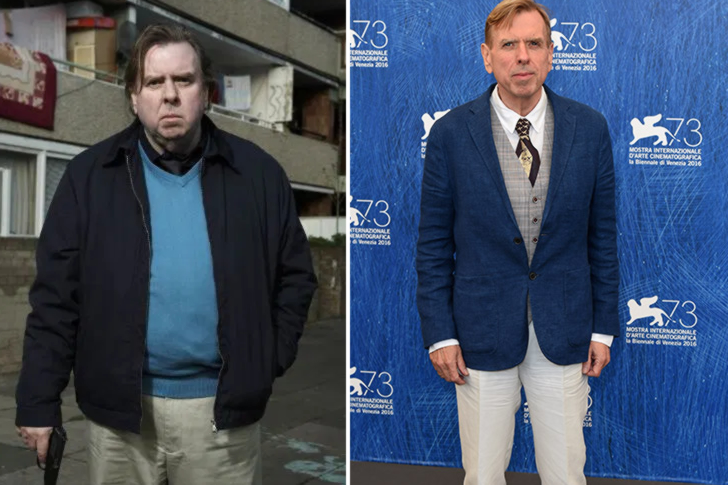 English actor and occasional presenter Timothy Spall, who we personally believe to be one of the most underrated actors of our day, is one celebrity who's had a huge weight transformation in recent years. Spall became a household name in the U.K. through his role in the comedy-drama series?Auf Wiedersehen, Pet. Some of his notable works include his performances in the films?Secret & Lies, Hamlet, Nicholas Nickleby, The Last Samurai, Enchanted, Sweeney Todd: The Demon Barber of Fleet Street, The Damned United, The King's Speech, and?The Party. He was also part of five?Harry Potter?films as Peter Pettigrew.
We're not really sure how much weight he's been able to lose, but the before-and-after pictures certainly confirm it's in the double digits. Spall shared that it was the various health conditions that he acquired that pushed him to change his lifestyle, and, happily, eating more healthily and cutting on his alcohol consumption had the profound effect that he needed to turn things around.
JANELLE BROWN – FITNESS AND DIET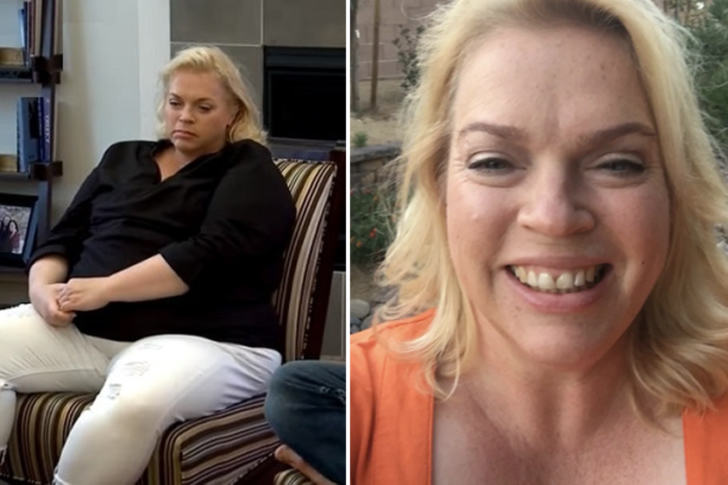 Janelle Brown is one of the stars of the reality television series?Sister Wives, a show that chronicles the life of a man and his four wives. The show opens to us the life of Kody Brown, being a husband to four wives and father to 18 kids, and having plenty of in-laws. It's really a show full of unresolved conflicts in an ever-growing family.
The actress surprised many when she appeared on screen, seemingly much slimmer than she used to be. Apparently, her weight loss was due to her decision to live a more healthy life, which consisted of watching what she ate and regular exercise. Happily, she's not the only wife in the show who lost weight. Apparently, all of them were above 200 pounds when the show started, but each was, to their credit, able to go below the 200 mark as the show progressed.
THERESA CAPUTO – FITNESS AND DIET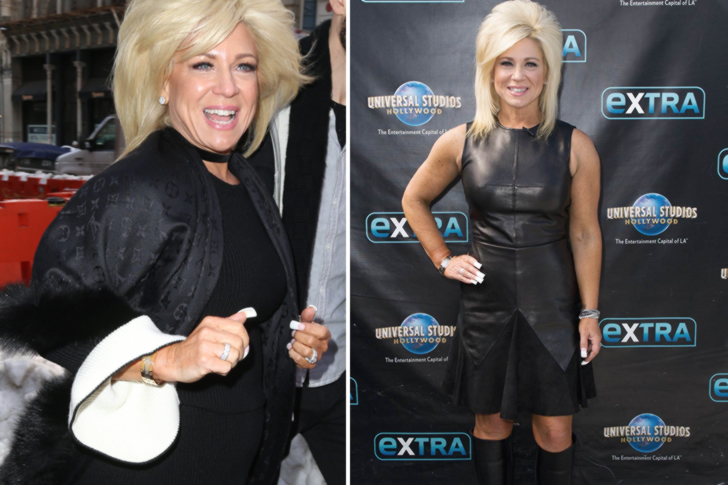 Theresa Caputo, the medium who claims to be able to talk to the dead, as well as the star of the reality television series,?Long Island Medium, didn't shy away from talking about her weight struggles in the show. Now, she seems to have lost a ton of weight, and she claims that it was all a result of her investment in exercise and eating more healthily. It all started around 2013 when she hired a personal trainer to get on the right track. Now, however, the gym has become part of her normal routine, and she claims she's so used to sweating it out.
Starring in one of the longest-running reality TV series is quite a feat for a self-professed medium like Caputo. While scientific skeptics refer to her mediumship performance as a con, the Long Island newspaper?Newsday?considers her a mentalism performer. It may seem to many that she's a fraud, but there at least those who regard her as a good actress.
TERESA GIUDICE – FITNESS AND DIET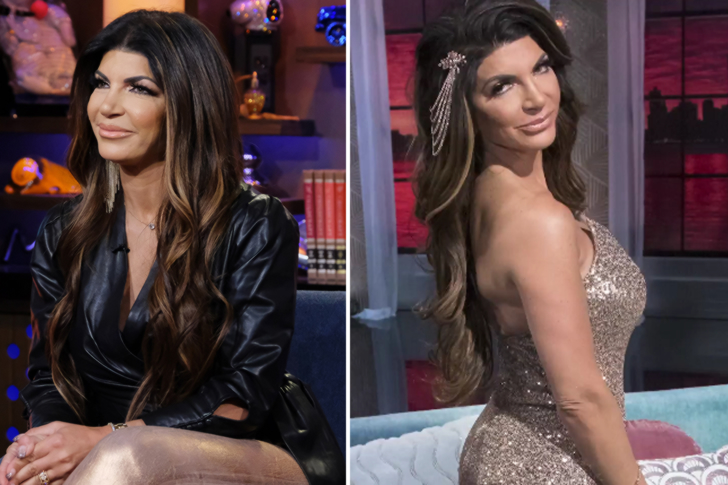 Reality television personality and all-around fitness advocate, Teresa Giudice, who's best known for starring in the hit reality television series,?The Real Housewives of New Jersey, reportedly started losing weight in prison. She was charged alongside her husband for conspiracy to commit mail fraud, bank fraud, and a few other illegal activities. Giudice said that she wasn't able to eat delicious food in prison, which naturally made her lose weight. She reportedly continued watching her diet after getting released from prison, which, coupled with her exercise regimen, had transformed her body into something competition ready.
Now given a second shot at life, Giudice is a changed woman not only in perspective but even physically. The TV personality is also an author of multiple cookbooks who made it to the New York Times bestseller list and bookstore stands. In 2012, she participated as a candidate on Donald Trump's?The Celebrity Apprentice 5?and raised $70,000 for The Nephcure Foundation.
TYRA BANKS – FITNESS AND DIET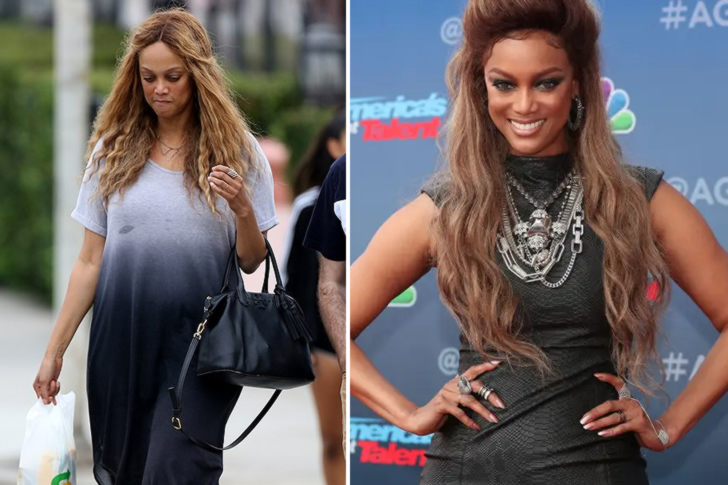 Television host, model, producer, and businesswoman, Tyra Banks, who has the distinction of being the first African-American woman to be featured in the cover of?Sports Illustrated Swimsuit Issue, has always spoken out against body shamers. But we have to say that there is absolutely nothing about her body that anyone can shame, given that she looks absolutely fantastic. She said she gained weight after her son was born (via surrogate), but she's been able to shed it all out after hiring a nutritionist. And, to her credit, she says she feels better than ever, having lost a whopping 30 pounds of excess weight.
The TV host, also known as BanX, was the first African-American woman to receive a feature on the covers of?G.Q.?and the?Sports Illustrated Swimsuit Issue?at the age of 15. Fashionably-inclined people here will recognize her as a Victoria's Secret Angel from 1997 to 2005. In the early 2000s, she is notably one of the world's top-earning models.?It's safe to say that given her credentials, Tyra can still rock the runway, regardless of weight.
MIRANDA LAMBERT – FITNESS AND DIET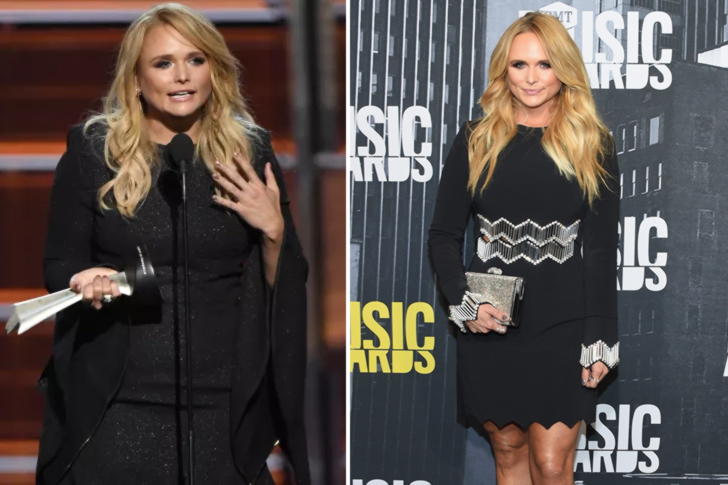 American country music singer Miranda Lambert, who gained wider recognition after finishing third place in the singing competition show?Nashville Star, shared in an interview that she gained weight pretty much like how everyone else does—by eating too much food. It's gotten to the point that she thought it might affect her career and health, so she hired a trainer and embarked on a weight loss journey. Happily, and to her credit, she's been able to lose an amazing 20 pounds, and it was all done through good ol' exercise and diet.
Many speculated that she underwent surgery, but Lambert was quick to dispel the rumors and clarify that it was all just exercise and diet. Looking back, the country singer-songwriter started out her career back in 2001 after releasing her self-titled album independently. In 2011 she became a member of the girl group, Pistol Annies together with Ashley Monroe and Angaleena Presley.
JENNIFER ELLISON – STRICTLY DIET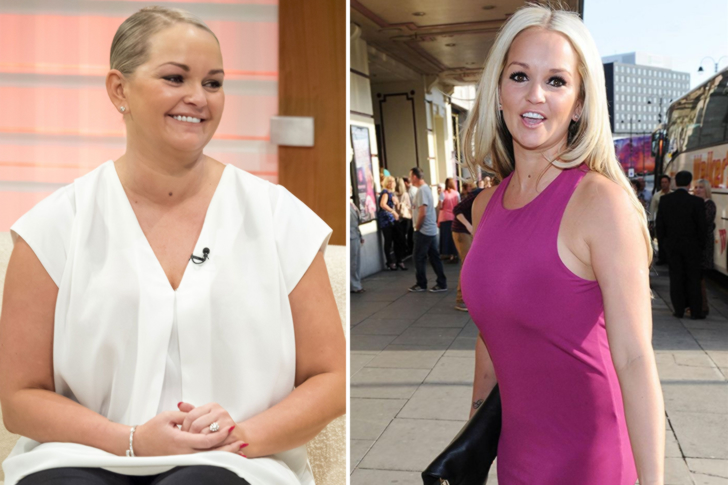 Actress and former glamour model Jennifer Ellison, who will be more known to most for playing Emily Shadwick in the hit television series?Brookside, has reportedly gone from a size 18 to a size 10 in a span of just three months. She gained weight after giving birth to her child and shared that she had difficulty getting back to her original svelte figure. Ellison was determined, however, to lose weight. She eventually was able to do it with the help of a trainer, who said a strict workout routine and healthy eating was all it took for Ellison to become the hot momma that she now is.
To her credit, Ellison seems to be more than capable of keeping the weight off. Other than being famous for her TV series?Brookside, the model is noted as well for her performance as Meg Giry in the 2004 film adaptation of?The Phantom of the Opera. She also took her swing at the reality TV show?Dance Moms.
ANTHONY ANDERSON – FITNESS AND DIET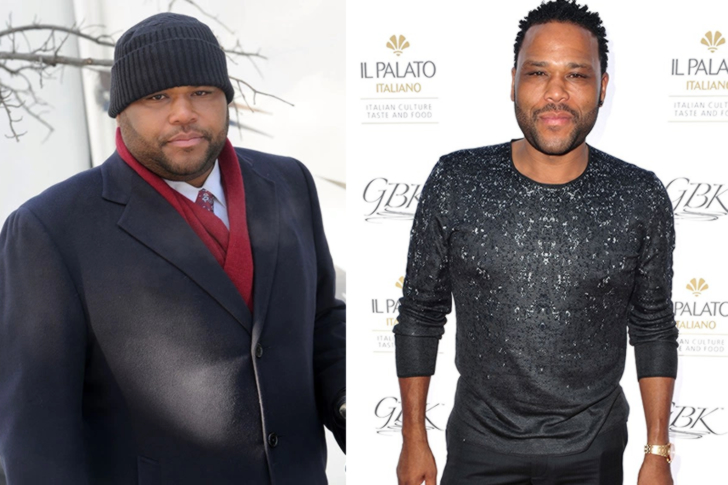 Comedian, writer and game show host, Anthony Anderson, who gained wider recognition for his roles in films like?Me, Myself & Irene,?The Departed, and?Transformers, reportedly lost 47 pounds and credited the overall change in his lifestyle for the transformation. The funnyman says that at his heaviest, he reached 270 pounds. He initially had no problem with it because he was always confident in himself. When he got diagnosed with diabetes, however, was when he decided he needed to do something about it. And what did he do that was so effective? Well, the man adopted a plant-based diet, and happily reports that he's now "vegan-ish," a lifestyle which, to a huge degree, has had a dramatic effect on his weight.
Anderson appeared in several films and TV shows. He even had his own sitcom,?All About the Andersons. To add, the comedian starred in others such as?Black-ish, and at the final season of?The Bernie Mac Show. He is also known for his lead roles in the TV series?K-Ville, The Shield, and?Law & Order.
MICHAEL MOORE – WEIGHT LOSS SPA?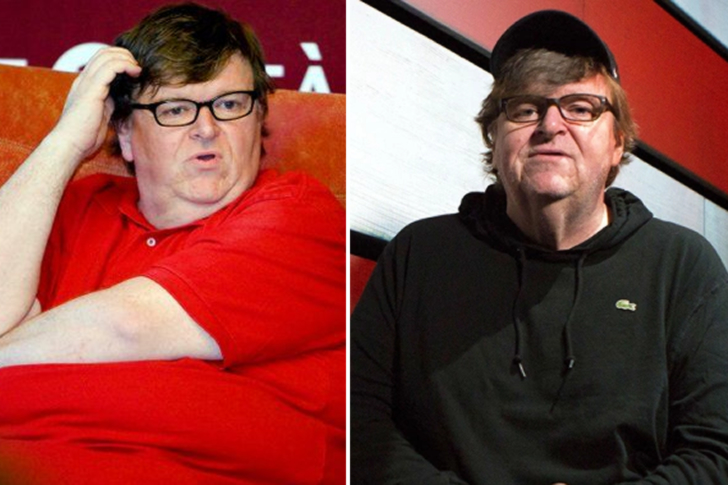 Filmmaker, author and activist, Michael Moore, who gained widespread recognition for his documentary film,?Bowling for Columbine, reportedly lost weight by checking himself into a weight loss spa. Yeah, we're scratching our heads about it, too. Apparently, however, a week's stay in the spa costs $4,200, which means it's only for people who have enviable credit scores. We're not sure what goes on inside this so-called weight-loss spa, but they offer eating plans and exercise routines, which one could probably get elsewhere for much cheaper. But whatever they've forced Moore to do, it seems to have worked, since the man now looks much fitter than he used to be.
Other than Bowling for Columbine, Moore also directed and produced?Fahrenheit 9/11, which critically looked into a past US presidency and talked about the War on Terror. The documentary film became a critical and financial success. In fact, it was named the highest-grossing documentary at the American box office of all time.
BRITNEY SPEARS – FITNESS AND DIET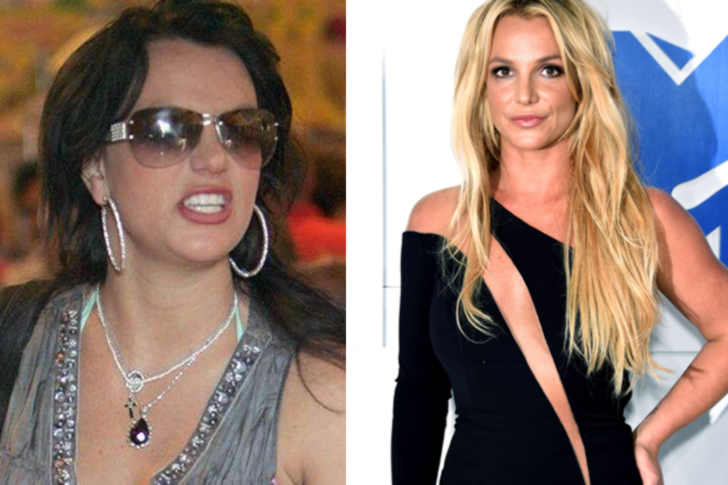 Singer, songwriter, dancer, and all-around pop icon, Britney Spears, who virtually changed the landscape of the music industry in the 90s with her innumerable hits, has clearly lost the extra weight and kept it off rather enviably. Anyone following the star on social media will know that it was through a combination of diet and exercise. Indeed, Spears doesn't infrequently give tips to her followers on what the best exercise is for which part of the body, what foods to eat or avoid, and how to keep the excess weight off. To her credit, Spears is looking so hot nowadays, and we're not the only ones who've noticed.
Now that she's back into shape, it's hard not to recall how she became the '90s Princess of Pop. It all started with the release of her 1999 album?Baby One More Time, followed by?Oops! I Did It Again in 2002, which were both a global success. Fans can't help but wonder if she would ever make such show-stopping hits again.
JASON SEGEL – FITNESS AND DIET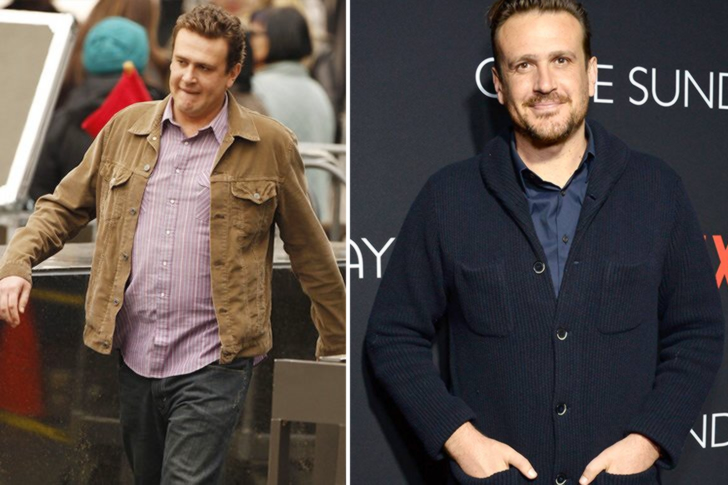 Actor, comedian, writer, and producer Jason Segel, who many will probably be more familiar with as one of the cast members of the hit comedy sitcom?How I Met Your Mother, was unrecognizable a few years ago when he stepped out looking much thinner than he used to be. People were absolutely shocked to see Segel lose so much weight in such a short span of time. Apparently, however, it was all because he chose to adopt a different lifestyle—and it was one that precluded late-night pizzas.
According to the actor, he was, to his credit, able to lose a lot of weight through good ol' diet and exercise, and intends to keep it off. Some of Segel's notable TV projects were his roles in the comedy-drama?Freaks and Geeks?and?Undeclared. He has also been noted for his off-camera parts as producer and scriptwriter for comedies that became critically and commercially successful.
SHERRI SHEPHERD – FITNESS AND DIET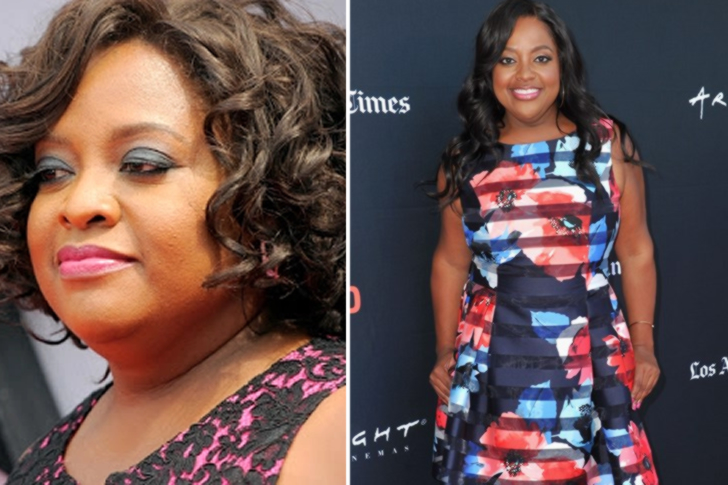 Actress, comedian and author, Sherri Shepherd, who many will remember as Ramona Platt in the hit television sitcom Less Than Perfect, revealed for one interview that she lost a whopping 30 pounds. How did she do it? Well, exercise and wait for the keto diet. Shepherd said she's had so much progress because of the diet, that she's both gone down a number of dress sizes and lost an amazing number of inches from her waistline.
And, to Shepherd's credit, she is looking fantastic nowadays, we're glad that she's sharing all the photographic evidence on Instagram, inspiring others in the process. The keto journey for Shepherd was not an easy task. It required her to pay too much attention to it, patience, and money, of course. We don't want to learn later on that she lost a lot of investment money to keto diet in the pursuit of losing weight.
PENN JILLETTE – FITNESS AND DIET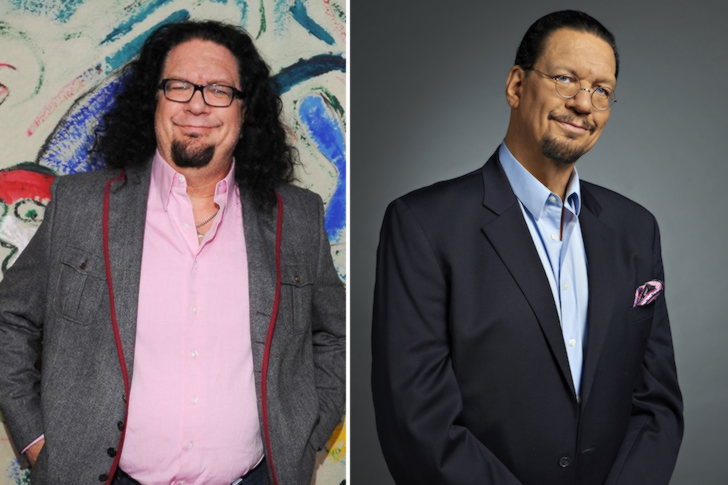 Magician, television personality, and occasional actor Penn Jillette is popular for being part of the two-man magician team, Penn & Teller. He is another celebrity who surprised everyone with his massive weight loss. Being a magician, it was nothing short of magical what he was able to do: he reportedly lost 105 pounds by switching to a vegan diet and intermittent fasting. To his credit, he's been able to keep the weight off.
We're not surprised by that since he shared that his intermittent fasting diet only granted him an hour a day to eat. He started his diet by eating only plain potatoes for two weeks until he got accustomed to it and continued to become a vegan. He also cut out pasta and bread. He eats huge amounts of salads, steamed vegetables, and brown rice. He stated in one of his interviews that he wouldn't settle for the easy dieting and instead opted for a much harder way of dieting.
PAULINE QUIRKE – FITNESS AND DIET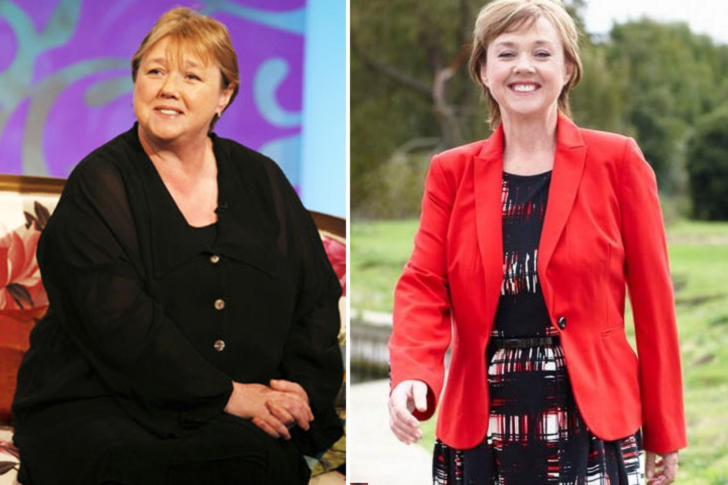 English actress Pauline Quirke, who many will be familiar with as the actress who played Sharon Theodopolopodous in the comedy series Birds of a Feather, was reportedly so inspired by her friend's weight loss journey that she decided to do it herself. Indeed, her weight has fluctuated over the years, but she recently looks better than ever, and we're hoping that she can keep it off this time.
In any case, she was spotted doing groceries in 2018 looking, to her credit, slimmer than ever after reportedly having shed close to 50 pounds by quitting alcohol and sugar for good. When she shopped for clothes, she was amazed that her size was reduced from 16 or 18 to 12 or 14. She wanted to lose more weight on her 60th birthday, but she didn't want to push her limits to the maximum degree of dieting. If she loses weight, it will be for the right reason and a healthy one.
RENéE ZELLWEGER – STRICTLY DIET
Multi-awarded actress and producer, Renée Zellweger, who was ranked as one of the highest-paid actresses in the mid-2000s, once surprised the public for gaining a lot of weight to play the role of Bridget Jones for one of the Bridget Jones's Diary films. Thankfully, she reportedly followed the Zone diet to get back in shape. The diet plan basically guides its adherents in their food choices, making sure they stick to certain food groups and consume a predetermined ratio of carbs and protein. Happily, Zellweger was, to a huge degree, able to shed the pounds because of it.
She had also experimented doing the Atkins Diet and Hamptons. She had gorged in the highest degree fatty carbs, doughnuts and beer. She goes to the gym six times per day and eats only a macrobiotic diet to maintain her figure. This versatile actress will not stop to keep her figure no matter what the cost because she enjoys her time going to the gym, it makes her think straight and she gets the time to think through what might be bothering her and that makes her happy as it frees her mind.
KATE WINSLET – DIET AND EXERCISE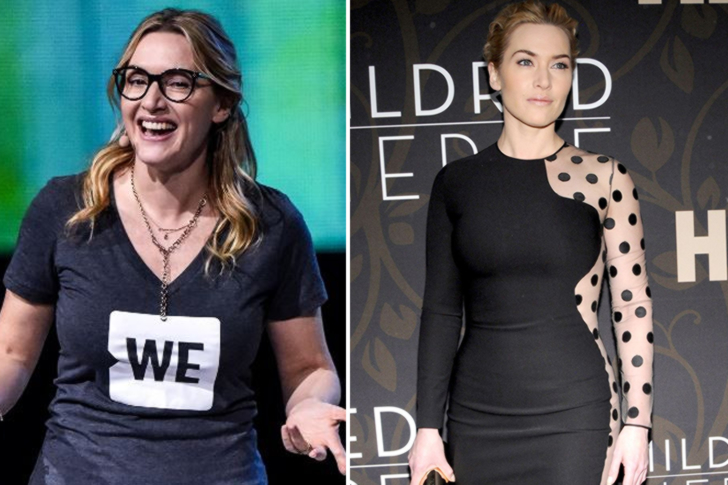 English actress Kate Winslet is widely known for her roles in period dramas. Her most popular is the film Titanic, which frequently ranks among the highest-grossing films of all time. The actress said for an interview a few years ago that she hasn't weighed herself in 12 years. It did sound weird, but her point, which made perfect sense, was that people need to concentrate on being fit rather than exhausting themselves with losing weight.
So, to where does Kate give the credit for losing weight? Apparently, by avoiding crash diets, which she says she doesn't believe in, and by simply eating smaller portions and doing regular exercise. She believes that if one has the willpower to lose weight, there is no need to go to the gym. You could exercise at home or anywhere like mounting on a treadmill, jogging outdoors, and exercise with a DVD, just so long as you are focused.
ROBBIE WILLIAMS – FITNESS AND DIET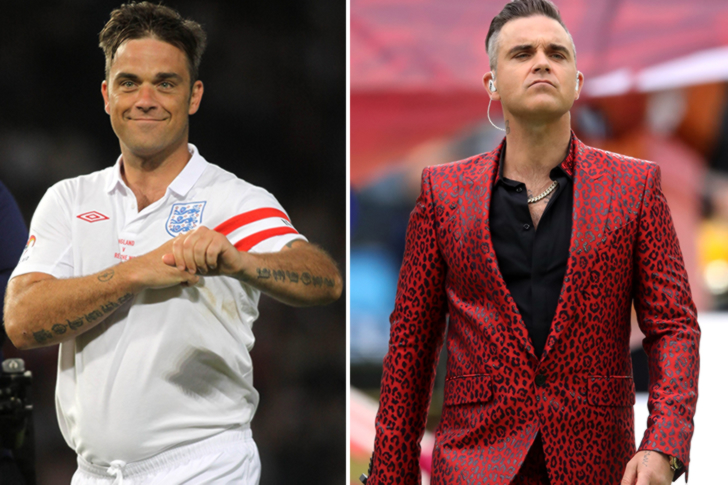 Singer and songwriter Robbie Williams, who gained widespread fame for being a member of the highly successful British boy band, Take That, reportedly won the battle of the bulge by dieting and doing exercise. Indeed, he's impressed quite a few people with his slimmer frame, especially since he seemed destined for fats Ville just a few years ago. So how did he do it?
Well, he said it was golf—especially since he skipped the golf cart and decided to walk between holes—and boxing coupled with eating more healthily. And, by golly, did it work, since, to his credit, he now looks just as slim as he was during his Take That days. He doesn't have to take on personal loans to pay the Weight Watchers company because he has thought it over before he decided to embark on this program. Robbie Williams wants to inspire his fans with his weight loss journey. He even posted in social media his lifestyle choices.
SARA RUE – FITNESS AND DIET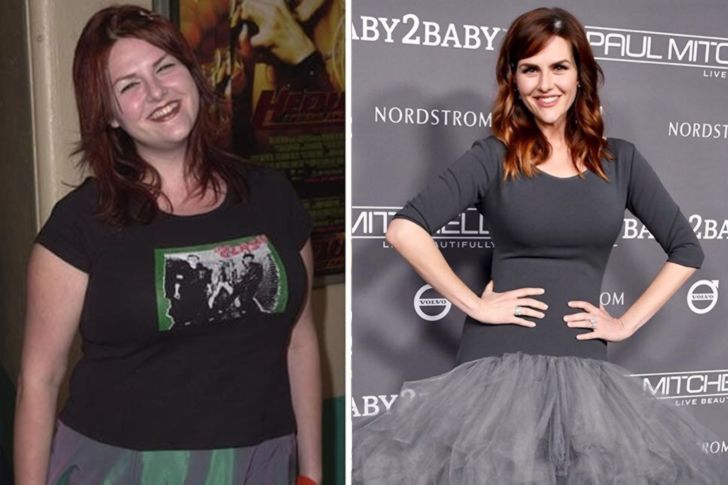 American actress Sara Rue, who is more popularly known for playing Carmen Ferrara on the hit television series Popular, gives all the credit to Jenny Craig for her successful weight loss. Jenny Craig, as some of you might already be aware, is a weight management and nutrition company that has worked with many celebrity clients, to varying degrees of success. In any case, Rue was reportedly able to lose 50 pounds through the guidance of Jenny Craig, and now she's not just much slimmer, she is also quite hot.
The before-and-after pictures are very inspiring, too, because it shows Rue has gone down more than a few dress sizes. To her credit, Sara Rue struggled in her weight loss journey before she finally reached her goals. She wanted to advocate for women and inspire people to learn from what she had endured with regard to her weight loss struggle. Sara has stressed that weight loss is such an emotional and complicated thing.
VALERIE BERTINELLI – FITNESS AND DIET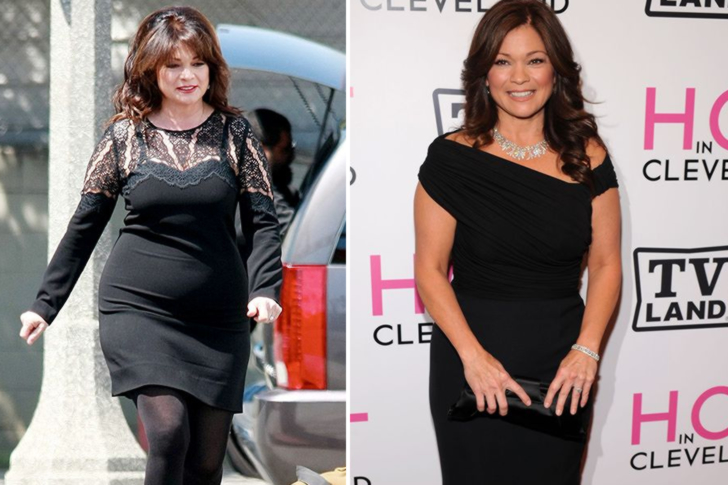 Actress and television personality, Valerie Bertinelli, who many will be more familiar with as the actress who played Barbara Cooper Royer in the longtime-running sitcom One Day at a Time, is another celebrity who swears by Jenny Craig's slimming methods. She was reportedly able to lose 47 pounds through the guidance of Jenny Craig, the weight management company that's known to be the go-to place for stars who want to lose weight fast. Indeed, Bertinelli had gone through a roller coaster ride when it came to her weight, losing pounds and gaining them almost as quickly.
But this time, she seems to be, to her credit, keeping it off. The Craig Weight Management Company has helped Valerie Bertinelli to be motivated and be focused on her endeavor to be fit and healthy. Because of her fluctuating weight patterns, Bertinelli is now dead serious with her fitness journey.
JIMMY KIMMEL – STRICTLY DIET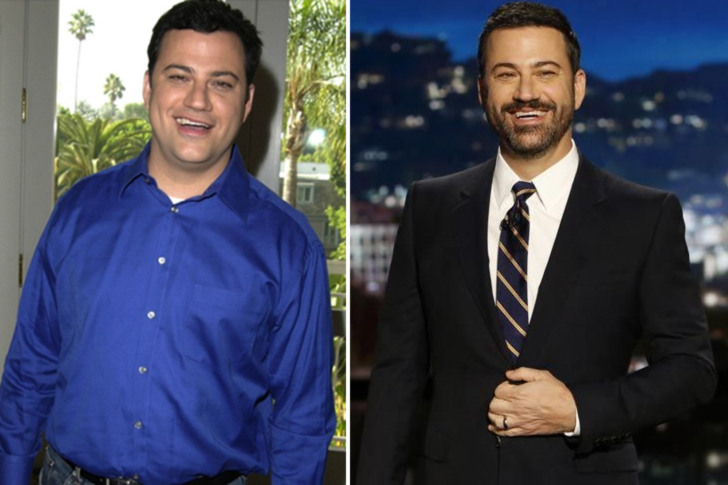 Comedian, writer, and host of the late-night television show Jimmy Kimmel Live! reportedly lost a lot of weight by following one particularly trendy diet. He shared that he lost 25 pounds because of it, and if you're wondering what the name of the diet is so that you, too, might benefit from its claims, well, it is the 5:2 diet. Sounds weird, huh? Well, you'll be glad to know that even Beyonce swears by its effectiveness.
It basically works like this: one can eat whatever one pleases, except on two days of the week, where intake is limited to 500 calories. Adherents of the diet war, though, claim that it is more difficult to follow than it sounds. Intermittent diet is most effective for Jimmy Kimmel. With this type of diet, he may not need any other diet plan available and so he can make other investments in other ventures.
KELLY OSBOURNE — DIET PLAN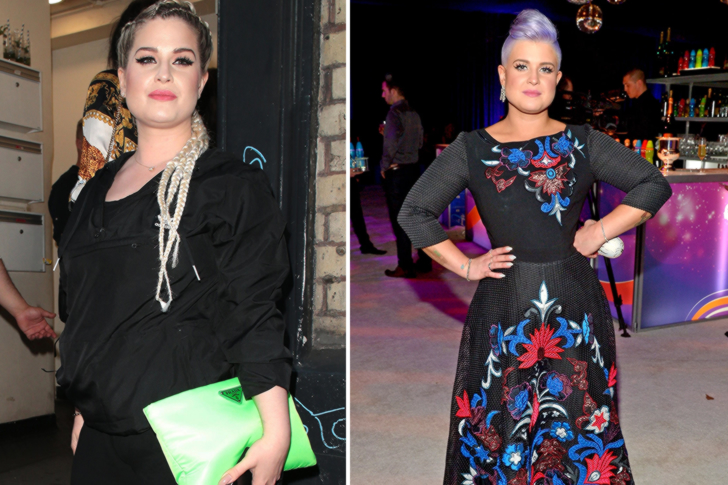 Singer, songwriter, and reality television star Kelly Osbourne, who people will remember from the reality television series, The Osbournes, was always 'the chubby one' wherever she went, but not anymore. She shared that she tried some of the wackiest methods to lose weight and that to some degree, they worked, but the trouble for her was keeping the pounds off permanently. Well, that is until she found what's called the M-Plan. 'M' here stands for mushrooms, because the diet plan replaces either lunch or dinner with a mushroom dish.
Many are skeptical of the diet's claims, but the proof, I guess, is in the pudding, and Kelly is the pudding—hopefully we got the metaphor right. She actually changed her lifestyle for her weight loss goal. It is not only her lifestyle that she changed but she also underwent a gastric sleeve surgery to gear her in the right direction of weight loss. We hope that in doing so, she has good health insurance to cover the cost of the surgery.
DREW CAREY – DIET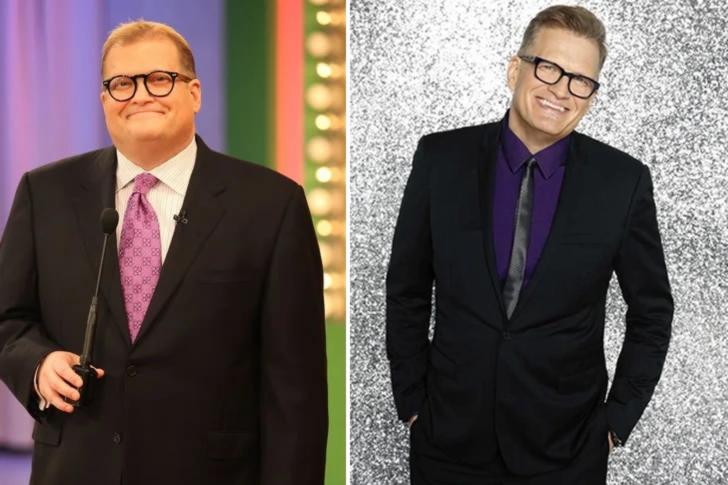 Comedian, actor, voice actor, and television host, Drew Carey, gained wider recognition for hosting his very own show, The Drew Carey Show. He later hosted the longtime-running game show, The Price is Right, where he surprised everyone when he managed to lose a considerable amount of weight. The comedian had always been overweight but shared that he told himself enough was enough when he peaked at a whopping 262 pounds. How did he do it?
Apparently, through exercise and a low-carb diet strategy that precluded pasta, bread, and soda. To his credit, he's looking great as of late, and we hope he manages to keep the weight away. He said it was a long commitment to diet and exercise and, to his credit, it finally paid off. He cut down on carbs, cola and crackers and settled for yogurt and egg whites. He said if he craves colas, he will drink more water to do the trick.
FERGIE – FITNESS AND DIET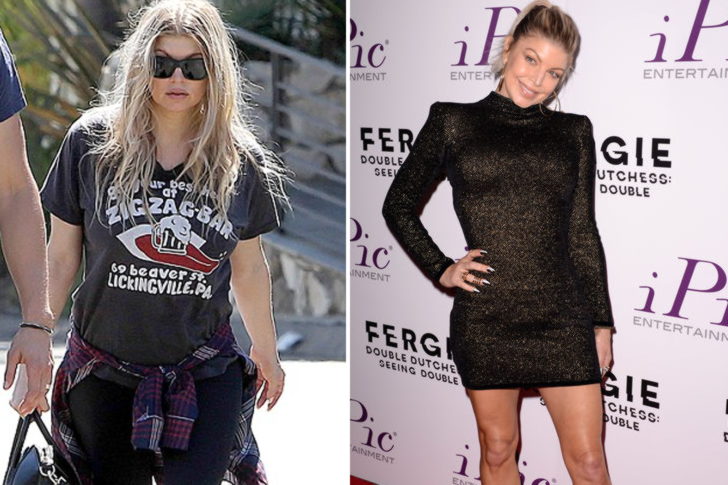 Singer, songwriter and actress, Fergie, who became popular for being part of the hip hop group The Black-Eyed Peas, was always sexy during the early days of her career. However, she seemed to have ballooned quite a bit midway through. Well, not anymore, since she's back to being sexy again, and says that it was all because of diet and exercise. Fergie also shared that she limited her intake and avoided carbs with a vengeance.
Happily, it seems to be working, since Fergie is now back to being as "Fergalicious" as before, and we fully expect to see her on television, flooring everyone with her curvatures in the near future. Like most of the celebrities, Fergie utilized the Weight Watchers Program for weight loss. It has become her investment since keeping in shape and healthy is more of an investment for her.
JOJO – STRICT DIET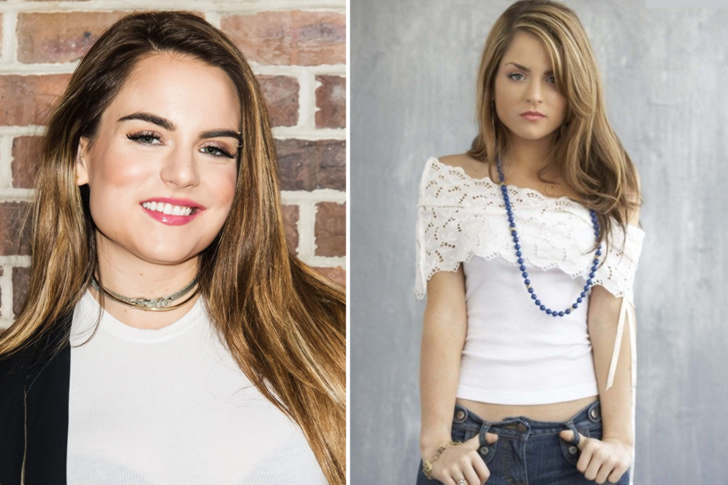 Singer, songwriter and actress, Joanne Levesque, who most will know by her stage name, Jojo, sued her former record label, alleging they forced her to lose weight when she was a teen. Her claim was that their demands messed her up "psychologically." It apparently became so difficult at times, not least because she was forced to take various diet supplements and limit herself to 500 calories a day.
Obviously, we disagree with her record label's extreme methods, but we're happy that she's doing fine now, in the hands of a new record label, and looking as healthy as ever. Losing weight in the wrong way never works, that is why Jojo returns to her bulges again. She has to seek the help of a professional to assist in her diet and exercise. Now that she is back again, she already knows that she won't let other people define her life again to ever seek the legal guidance of a lawyer for another lawsuit.
JOELL ORTIZ – FITNESS AND DIET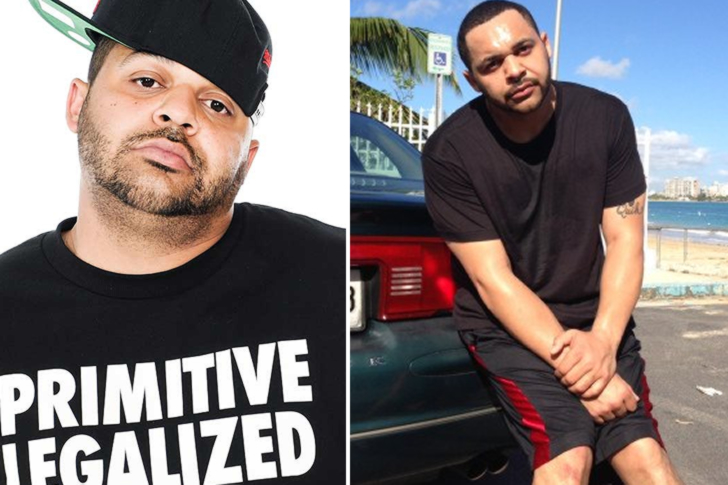 American rapper, Joell Ortiz, who many might know as a member of the hip hop group Slaughterhouse has reportedly been able to offload 60 pounds. To make matters more interesting, he's turned much of his flab into muscles, too, and for all practical purposes looks like a bodybuilder these days. The rapper shared that he woke up one morning and said he was tired of looking and feeling the way he did, so he decided to do something about it. How did he do it?
He simply hit the gym and started eating more healthily. To his credit, Ortiz also quit smoking, drinking, and the occasional 6:00 AM deluxe cheeseburgers. Most of us still want our rappers to be performing healthy. The issue of keeping healthy and fit among them is just the tip of the iceberg. There are also various issues that need to be tackled. For Joell Ortiz, he decided to make it his resolution to lose weight and keep a healthy because he woke up one morning and wanted to make a serious change.
DAVID STYLES – FITNESS, DIET AND JUICING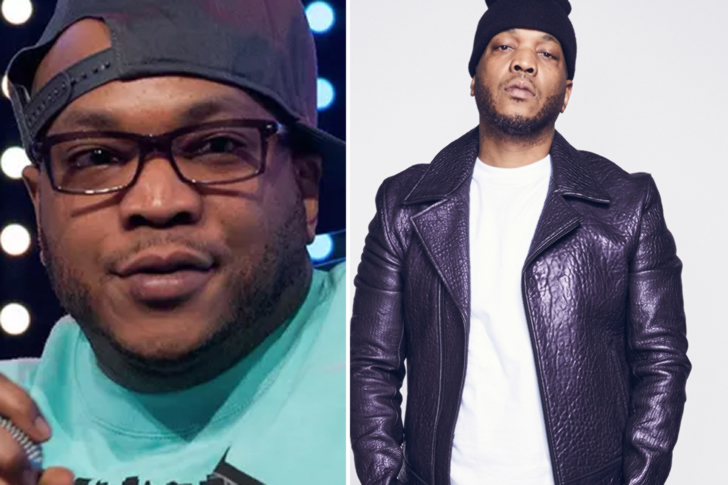 Rapper David Styles, otherwise known as Styles P, who many will know is a member of the hip hop group The Lox, reportedly lost a lot of weight and is now a health advocate of sorts with the juice bar he's put up in Castle Hill Avenue in the Bronx, NY. According to Styles, his weight loss came gradually; he slowly quit junk food and started adopting a healthier lifestyle. He also took up juicing, which he swears by. Styles claims that he didn't just lose weight, but he's also, to a huge degree, become healthier overall because of his juicing lifestyle.
He poured more time in doing exercise and maintaining his healthy diet intake. All his investments paid off because he became a health advocate. Although he made a considerable amount of money, he is still mindful of his health. We hope that he will still make several records soon and continue to inspire us in shedding weight in the healthiest way possible.
TEAIRRA MARI – FITNESS AND DIET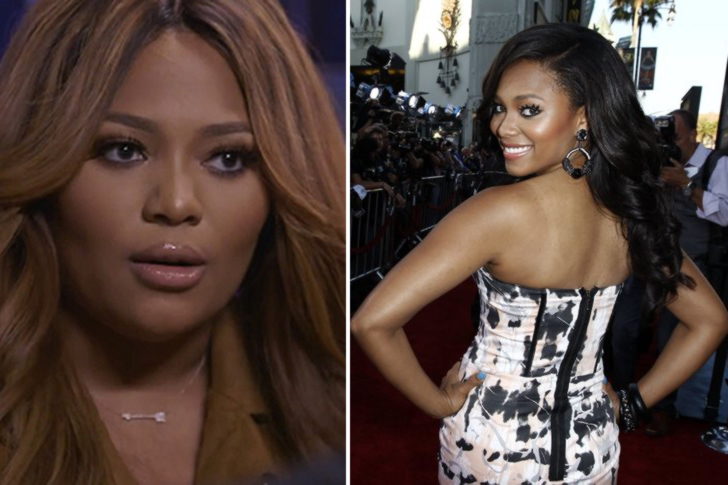 Singer, songwriter, model and occasional actress, Teairra Mari, who many might be familiar with for her involvement in the hit reality television show Love & Hip Hop: New York, is reportedly trying to restart her career after a few questionable decisions she's made in the past that contributed to her downward spiral. After her brief rehab stint, she thankfully went straight to focusing on her fitness and health. And, we're happy to say, she seems to have lost a lot of weight and is looking better than ever.
She was also, to her credit, able to give up booze, which many say was very helpful to her mental wellbeing. No one really knows how she did it leaving many people to speculate. In the end, however, Teairra Mari would only say that she dieted hard and exercised strenuously. We just hope that people will believe her as she really seems to be healthy and happy.
BRUCE VILANCH – WEIGHT LOSS SURGERY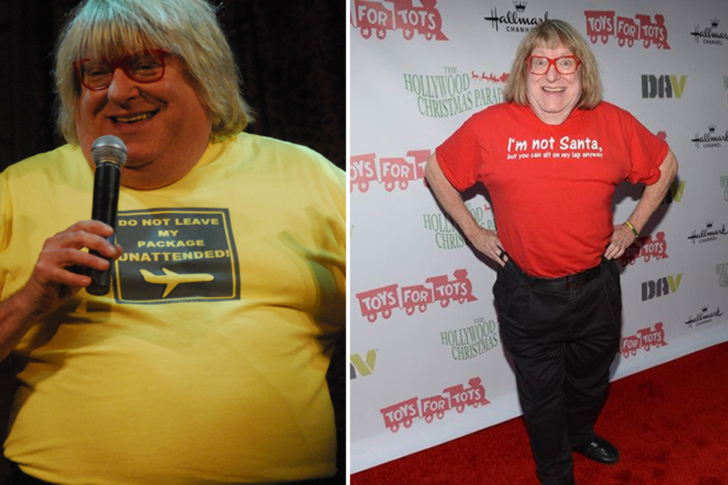 Emmy award-winning comedy writer and actor Bruce Vilanch, who most will know from his long stint in the highly successful game show, Hollywood Squares, is another celebrity who's had so many issues with his weight and so many failures when it came to following the latest diet fads that he decided to just throw in the towel and get surgery. We're not sure just how many pounds Vilanch was able to offload, but if the latest pictures of him online are any indication, then we have to say that it was at least moderately successful.
He does, to a huge degree, look much slimmer. However, there's still a long way to go for him. His investment in weight loss is after all successful. We hope that he has a good insurance policy to cover the surgery cost. Vilanch, who was known for his physical appearance, particularly his weight, and for distinctively wearing bright colored frames glasses, is not the same man anymore because he looked very different when he lost weight.
ASHLEY FINK – FITNESS AND DIET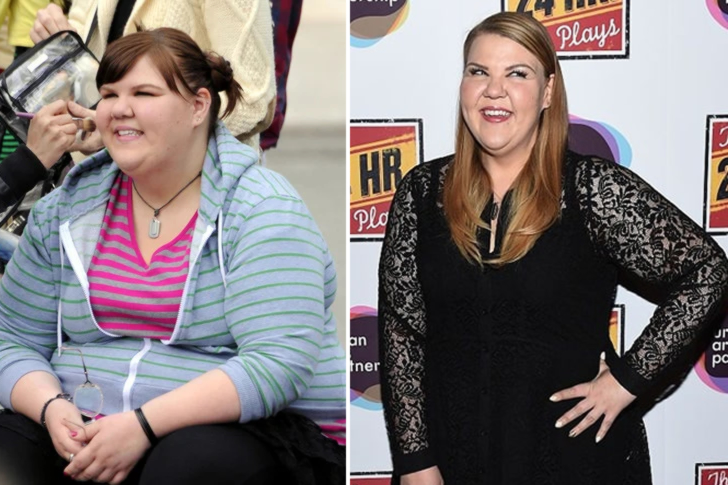 Actress and singer, Ashley Fink, who will be more known to readers as the actress who played Lauren Zizes in the hit television series, Glee, was reportedly able to drop 50 pounds, bringing her weight down from 300 to 250 pounds. How was she able to do it? Well, Fink claims it was all due to a strict exercise routine and an overhaul in her attitude towards food. At 250 pounds, Fink still has a long way to go, but we have no doubt that she'll get there, considering the degree of progress she's already made.
Ashley Fink is chubby since her childhood days, she has never outgrown it instead she grew up fatter. She even appeared in Fat Girls and Huge which are shows that features fat celebrities. Fink, however, is a model of positivity. She believes that somehow, she will lose weight to the degree that she wants to.
MEGHAN TRAINOR – FITNESS AND DIET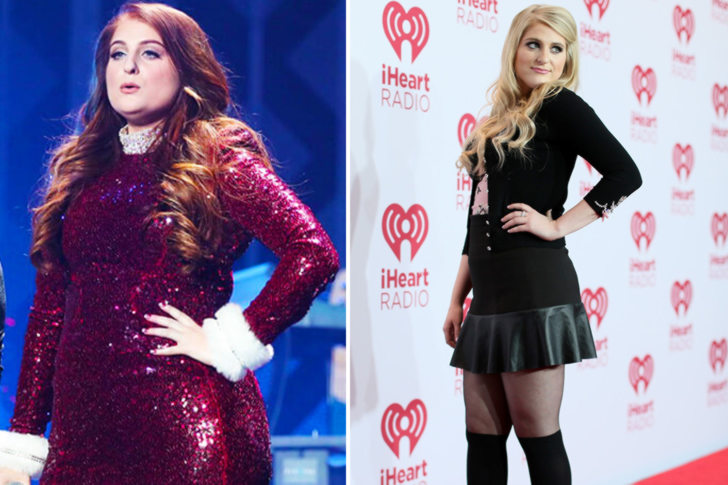 Singer, songwriter, and producer Meghan Trainor, who many might be more familiar with as one of the judges of the television singing competition The Four: Battle for Stardom, apparently dropped 20 pounds around the time she dropped her single "No Excuses" in 2018. The celebrity judge shared on social media that she lost weight "the healthy way", which means she relied on good ol' diet and exercise. If her latest pictures are any indication, Trainor is, to her credit, looking much slimmer and healthier than she used to. And we're glad she's sharing all her progress on social media and serving as an inspiration to others.
She revamped her entire lifestyle because she doesn't believe in surgery and diets in order to reach the goal of weight loss. When she met her fiancé, she wanted to lose her excess fat for her to look more ravishing in his eyes. She was so inspired that losing 20 pounds was as easy as eating chocolate for her. We just hope that they won't separate or Trainor might revert back to her old lifestyle, for heartbreak is a tragedy!
QUEEN LATIFAH – FITNESS AND DIET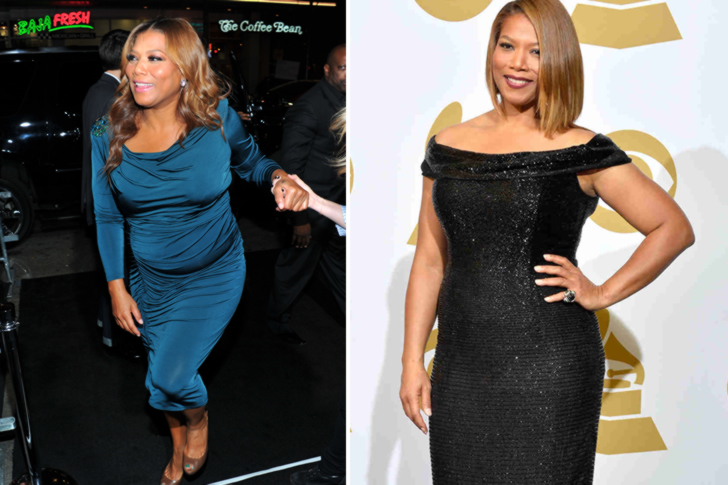 Rapper, singer, songwriter, and actress, Queen Latifah, gained wider recognition after playing Khadijah James on the moderately successful FOX sitcom, Living Single. She's also another celebrity who had been helped by the weight loss methods of Jenny Craig — the weight loss management company to the stars. And by that, we mean Queen Latifah was able to lose 20 pounds through Jenny Craig, which the before and after pictures of Latifah on their website makes clear.
It was an amazing transformation, and we're sure that Latifah is proud of herself, considering all the weight loss struggles she's had in the past. She claimed that she really doesn't diet but she keeps everything in moderation and she eats right. She also wished that if she had known, she would have started eating good nutrition when she was younger. To her credit, she looks good and after losing 20 pounds off her weight at the age of 47, she still looks young and she feels good inside.
JOHN GOODMAN – FITNESS AND DIET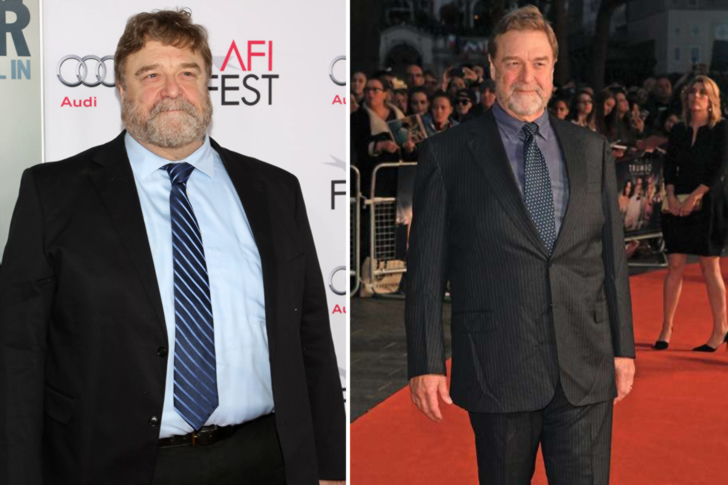 Actor and comedian, John Goodman, who became somewhat of a household name after the success of the television series Roseanne (where he played Dan Conner), is one of the celebrities here who have been able to lose a tremendous amount of weight. He never shied from speaking about his weight struggles, and he shared that he battled with obesity and alcoholism for so long that at one point, he looked at himself and said enough is enough. So how did John lose weight?
Well, he claims it was, to a huge degree, simply discipline, through the help of a personal trainer—Goodman watched what he ate and practiced portion control. It seems to be the practice he makes even after he shed off about 100 pounds. Goodman's weight loss basically started when his trainer brought him to the cemetery and told him to dig his grave because being what he is, is a foot away from his grave. Credits should be given to his trainer for encouraging him and, of course, to Goodman for keeping up with his weight loss training.
SETH ROGEN – FITNESS AND DIET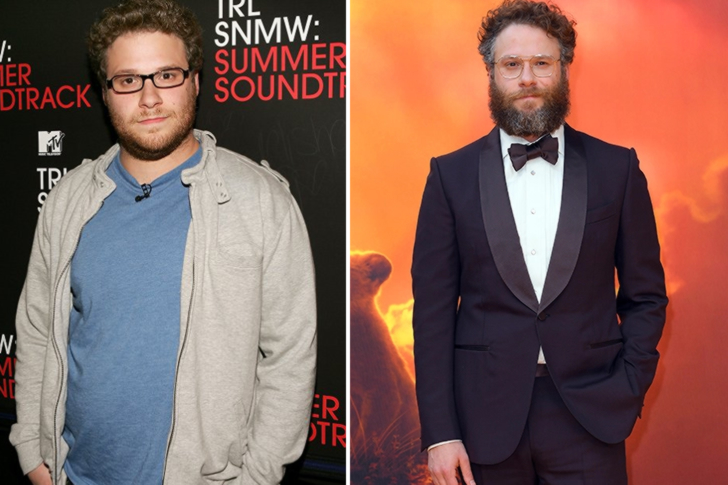 Comedian, actor and producer, Seth Rogen, who gained widespread recognition for his involvement in Judd Apatow's coming-of-age comedy drama series, Freaks and Geeks, is one actor who's always been known to be chubby. Indeed, most of the characters he plays are funny, laid-back, and somewhat naive of adult life, which is the kind of characters his body-type almost perfectly matches. Now, however, Rogen is looking slenderer than ever, and has reportedly been able to shed 30 pounds through a combination of diet and exercise.
To his credit, he seems to have been able to keep the weight off, too, he is not as chiseled as some leading men, to be sure, but he's definitely on the right track. Thanks to Ryan Reynolds, Rogen found inspiration to lose weight when he contacted the former's trainer. We just hope that Seth Rogen will continue on this path and will maintain the body that he has been working on for a long time now.
JERRY FERRARA – FITNESS AND DIET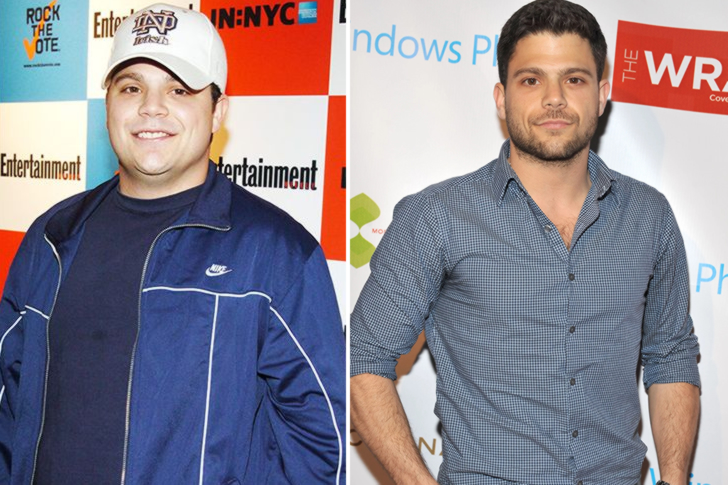 Actor Jerry Ferrara, who most will be familiar with as the guy who played Turtle in the hit HBO comedy series Entourage, is another chubby actor whose roles didn't infrequently focus on the fact that he was chubby. Indeed, in the show Entourage, his fictional friends would often mock him for being overweight. But nobody can mock Ferrara these days for being overweight, because he's now much slimmer than he used to be, and shared that it's all because of his newfound devotion to working out.
To his credit, Ferrara was able to lose a whopping 40 pounds in a span of 10 months. He tried to walk a mile and a half on a treadmill, but running consistently for days has become more effective for him. He has made it clear that he worked out and dieted for his health and not for the public or to make himself look good for other people.
KIM KARDASHIAN – DIET AND EXERCISE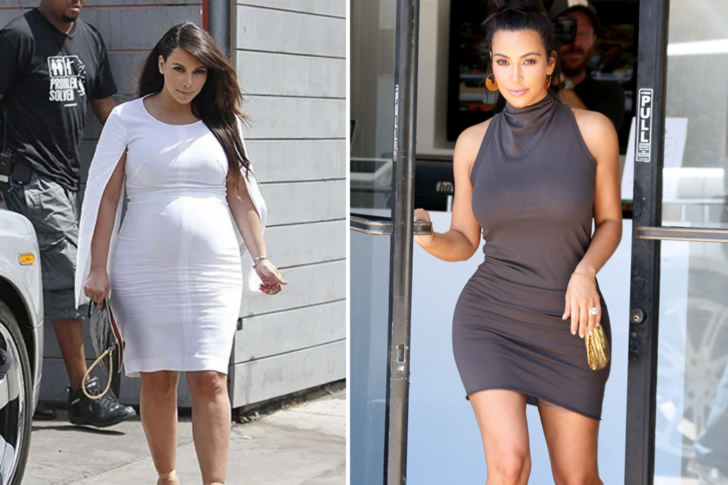 Reality television personality, socialite, and ever-ubiquitous individual, Kim Kardashian, who was catapulted to stardom by her and her family's highly successful reality television series, Keeping Up with the Kardashians, is one person who definitely doesn't mind working out. Indeed, she does it all the time on her show, which is why she's been able to lose all the excess weight after giving birth to daughter North.
Her secret, of course, was both exercise and the Atkins diet, two of the methods she credits for helping her lose more than 20 pounds of excess weight. Kim Kardashian would go lengths up the highest degree to achieve her fitness goals. She has a very competent trainer which we are sure that she put so much money on this investment. Kim strives to be almost perfect, or close to it. She always reaches for her goal whatever it is, be it family goals, fitness goals, and her law education. All the same, she can do these things because she has focus and love for what she is doing.
ALEC BALDWIN – FITNESS AND DIET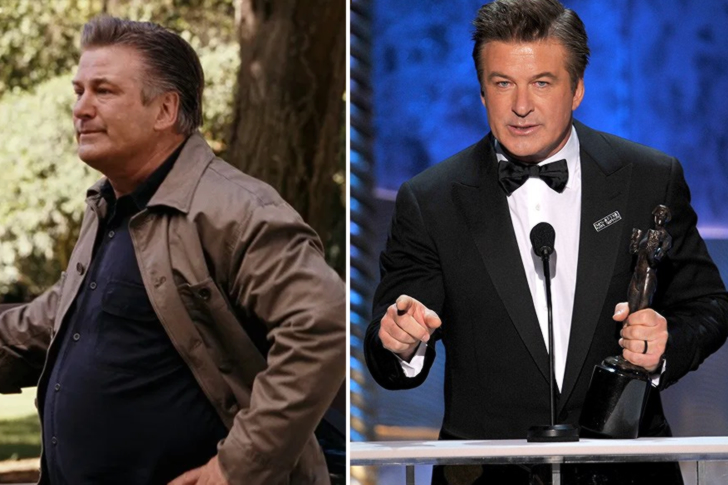 Actor, writer, comedian and producer, Alec Baldwin, the eldest of the Baldwin brothers who gained wider recognition for his involvement in the hit television series, Knots Landing, dropped his pants for an interview with Jimmy Fallon one night to show how much weight he's been able to lose. The audience, of course, was enthused by Baldwin's and Fallon's onstage theatrics, but to his credit, it really does seem like the Trump impersonator did lose a lot of weight.
Unfortunately, Baldwin didn't share exactly how much weight he's been able to shed, but he did say it was due to exercise and a plant-based diet. Baldwin lost weight dramatically with the help of his wife. Her wife documented all the things about her husband's diet regimen. She even went with him on their runs. When he was diagnosed to have pre-diabetic levels, he was forced to diet and exercise.
50 CENT – WEIGHT LOSS PROGRAM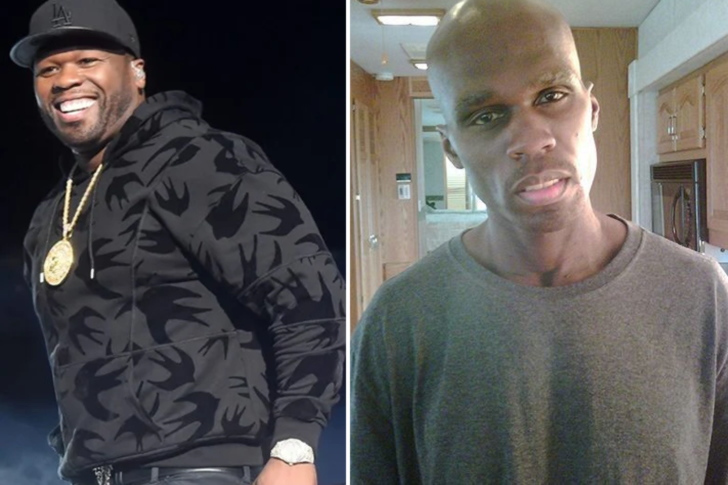 Rapper, actor, producer, and all-around entrepreneur, Curtis Jackson—otherwise known as 50 Cent—set the internet on fire in 2010 when he uploaded a photo of himself looking incredibly malnourished. Happily, people found out that he purposefully lost weight for a role he was playing in the film All Things Fall Apart. It turned out that the role was of a cancer patient, which explains the massive weight transformation he went through.
Apparently, the rapper dropped 54 pounds in 9 weeks by coupling a liquid diet with daily treadmill workouts. To his credit, he was able to pull it off, placing him alongside actors like Christian Bale and Robert DeNiro, who have also gone through weight transformations for roles. Apparently, 50 Cent was naturally bulky so it was difficult for him to look slim and light. He devoted himself to running to suppress his appetite.
RUBEN STUDDARD – WEIGHT LOSS PROGRAM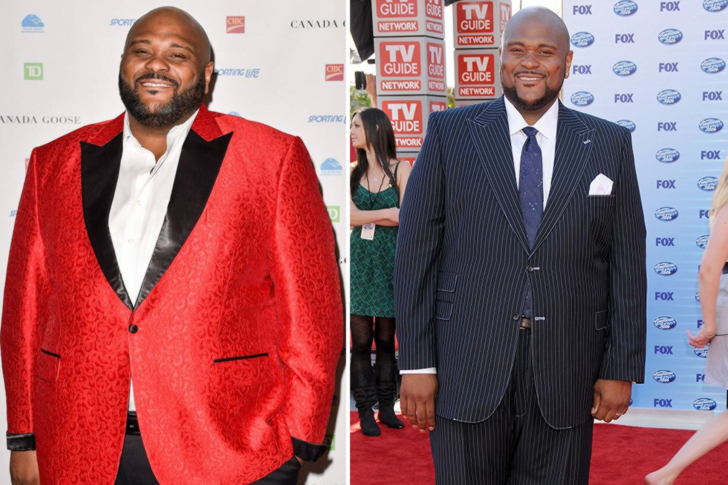 Singer, songwriter, reality television star, and occasional actor, Ruben Studdard, rose to prominence after winning the second season of the television singing competition American Idol. He has reportedly lost a total of 112 pounds after signing up for the reality television show The Biggest Loser. The transformation, to be sure, was nothing short of life-changing for the singing competition winner, whose weight peaked at 462 pounds. Studdard claims he decided to join the show and change his lifestyle after being diagnosed with diabetes, and we're glad that things worked out for him.
Although he didn't win in The Biggest Loser, he did, to his credit, win back his health. Now, he can concentrate on his singing career while being vigilant of his health. He doesn't want to go back to the painstaking experience he had while losing weight. He struggled so much when he first tried to shed off some pounds. In the end, he won the battle of the bulges.
RONNIE ORTIZ – FITNESS, DIET AND LIPOSUCTION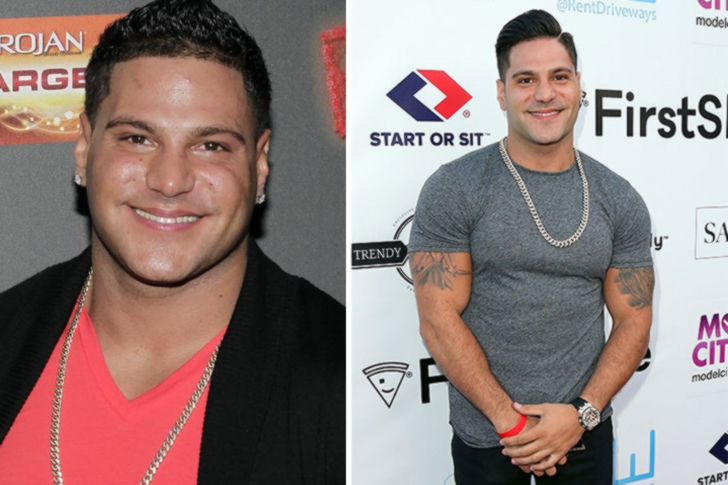 Reality television star and occasional actor Ronnie Ortiz, who will be familiar to most as one of the members of MTV's hit reality series Jersey Shore, shared that he gained more than a little bit of weight after being a dad. Daddy duties, to a huge degree, limited his ability to hit the gym. But this didn't stop him from taking the necessary steps to shed the pounds. Indeed, Ortiz claims that he's always been a fitness fanatic.
But apart from exercise, Ortiz also turned to liposuction to get the body he always wanted. And as far as we can tell, it worked, because he is now looking much slimmer than he used to, compared to even his fit days on Jersey Shore. We hope that Ortiz didn't spend too much on liposuction. So long as he sees that losing weight through surgery has a money-back guarantee, then it is a good investment. His mantra on diet is: "as long as it tastes good, don't eat it."
MELISSA MCCARTHY – DIET PROGRAMS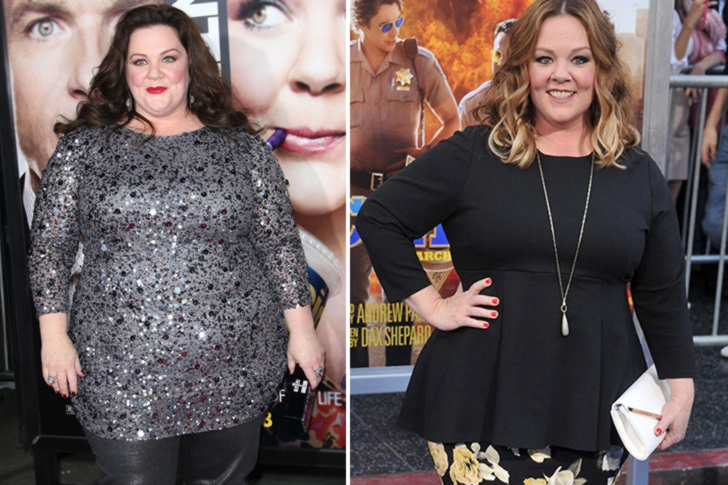 Comedian, writer, producer, and fashion designer Melissa McCarthy, who was included by Time Magazine in their 100 Most Influential People in the World list of 2016, has had her share of weight loss struggles about which she never shared with her fans. She said once that she's always left disappointed when she goes out shopping, not least because of her weight. It was when she tried a doctor-supervised all-liquid diet after landing a role in the hit show Gilmore Girls did, she sees the weight come off—to the tune of 70 pounds.
Now, to her credit, she's looking much slimmer than ever, but admits there's still a long way to go. The best diets, according to Mccarthy are the ones that don't make you feel hungry all the time. She chose a low-carb diet, and it did the trick as she shed off 70 pounds. However, having shed 70 pounds by diet alone even to the maximum degree will not hasten weight loss faster instead she revealed that he was also taking weight loss pills.
CANDACE CAMERON BURE – DIET AND EXERCISE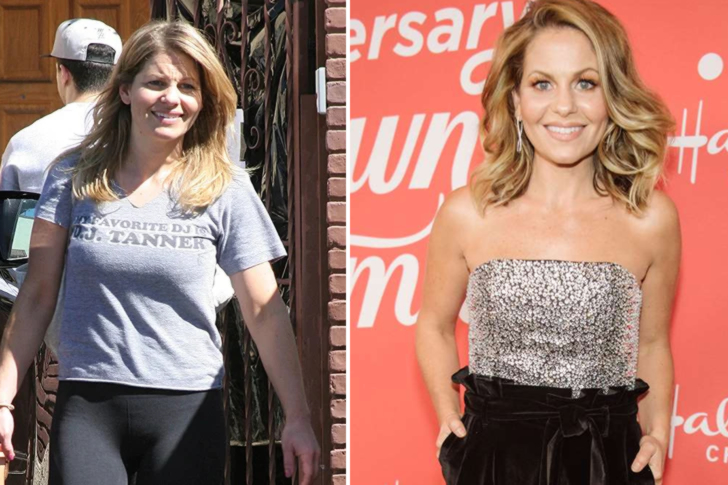 Actress, producer, and author Candace Cameron Bure, who is more popularly known for playing D.J. Tanner in the hit television sitcom Full House, chatted with EatingWell recently about how she stays in shape. Apparently, she uses her Kira Stokes App to guide her in her daily exercise routines. As far as her diet is concerned, she said she limits her and her family's consumption of processed food. And to her credit, she's looking better than ever.
We can't say that she was ever overweight, but she's definitely at her slimmest these days and is inspiring others to make small changes in their lifestyle for the better. She once said that she feels slimmer and healthier than she was when she first had her children 15 years ago. She follows her 8 diet rules in keeping healthy. She believes that life is too short not to enjoy your food.
PEREZ HILTON – FITNESS AND DIET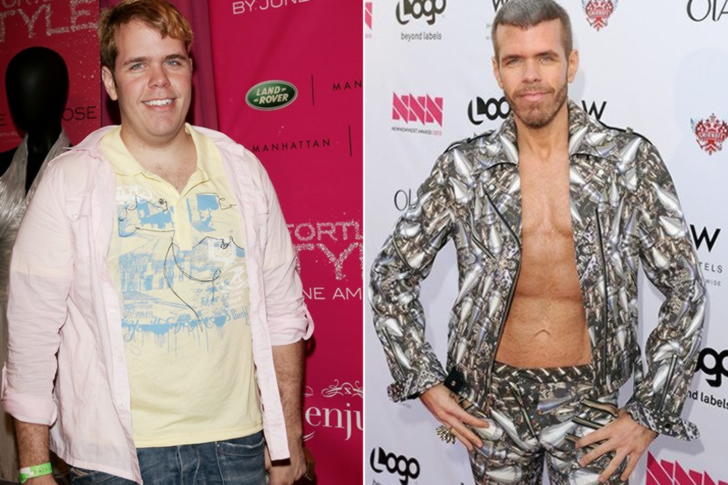 Gossip blogger and media personality Perez Hilton, who's blog PerezHilton.com catapulted him to stardom in the world of celebrity gossip, is one individual who doesn't shy from talking about his weight struggles. Hilton shared that it was, to some degree, in 2008 when he started committing to his health. It took him four years to reach his goal, but boy are the results absolutely astonishing. Hilton says that he lost 70 pounds, and he's been able to do it "the old fashion way," which is through diet and exercise.
Through a combination of diet, Pilates and yoga, the man now looks like he's the fittest he's ever been! To his credit, he now has a toned body. His weight loss struggles are often the meat of his blogs, or at least he haphazardly inserts in any topic relating to weight loss purposely to inspire and encourage people how it is to struggle to lose weight.
AMBER RILEY – FITNESS AND DIET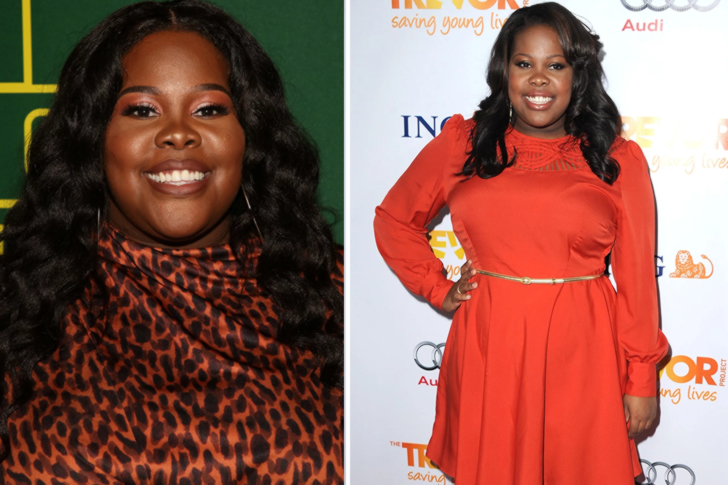 Actress, singer, and author, Amber Riley, who is best known for playing Mercedes Jones in the hit television sitcom Glee, surprised everyone when she flaunted her new and improved body over at Instagram. And, indeed, she looks, to her credit, much slimmer and healthier than she used to! She shared that it's a combination of diet and a strict exercise routine that got her to where she is, and although she still has a long way to go to reach her desired weight, she's definitely on the right track.
Riley claims that what finally pushed her to change her lifestyle was the chronic stomach pains she's been getting as a consequence of her weight. When she consulted a doctor regarding his chronic stomach pains, there was no way for Riley to change her lifestyle entirely; she was determined not to be severely sick to the degree that she will seek constant hospitalization.
CHRISSY METZ – WALKING AND DIET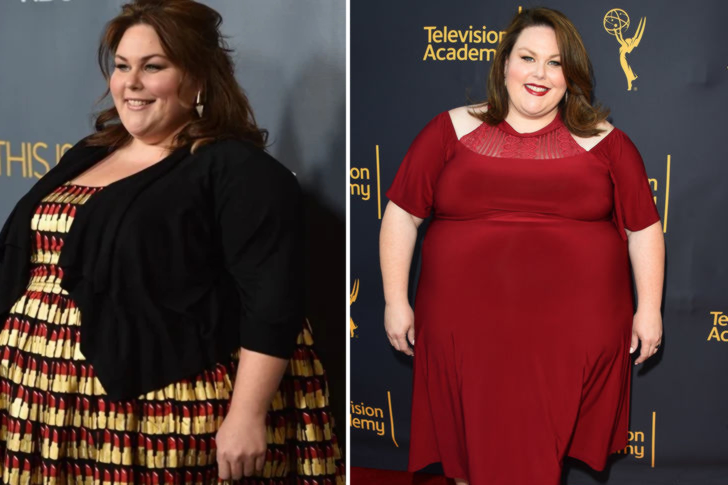 Actress and singer, Chrissy Michelle Metz—or just Chrissy Metz—who gained wider recognition for playing Kate Pearson in the hit television drama series, This Is Us, has never hesitated to share about her struggles with weight. Indeed, she has, in the past, talked about how her weight has affected her career, and how it gave her body image issues. She claimed that she tried Weight Watchers as a kid, but ultimately failed in the effort.
To her credit, however, she saw success and lost 100 pounds after following a strict weight loss plan that consisted of 2000 calories a day and 20-minute daily walks. She should also consider being mindful of her weight just like when she was younger, so that whenever she eats, she knows additional pounds are added to her weight. She is very cognizant of her weight gain that she went to Weight Watchers when she was 11 years old.
DELTA BURKE – DIET AND EXERCISE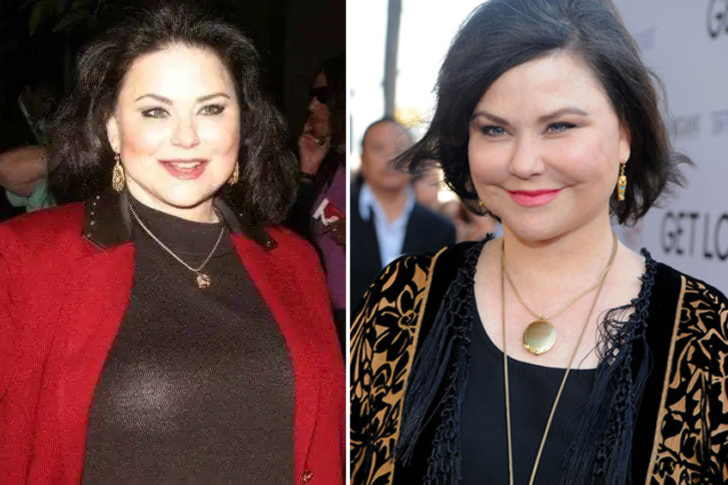 Actress, producer and author, Delta Burke, who gained prominence playing the role of Suzanne Sugarbaker in the sitcom Designing Women, reportedly started taking her health more seriously when she was diagnosed with type-2 diabetes. Burke shared that diabetes ran in her family, and she wanted to avoid the concomitant health ailments that came with the disease, so she decidedly began her weight loss journey. She said it hasn't been easy—in fact, it's been very slow.
But eventually, she was able to lose weight through a long and arduous process of dieting and exercise. Now, to her credit, she looks slim and healthy and seems to be successfully keeping the weight off. It wasn't really difficult for her to lose weight because she was naturally slim when she was younger. Evidently, when she joined beauty pageants and won the title of Ms. Florida, Burke knows that competing in pageants require that women should fit in certain standards and not weigh too much.
JOHN BRADLEY-WEST – STRICTLY DIET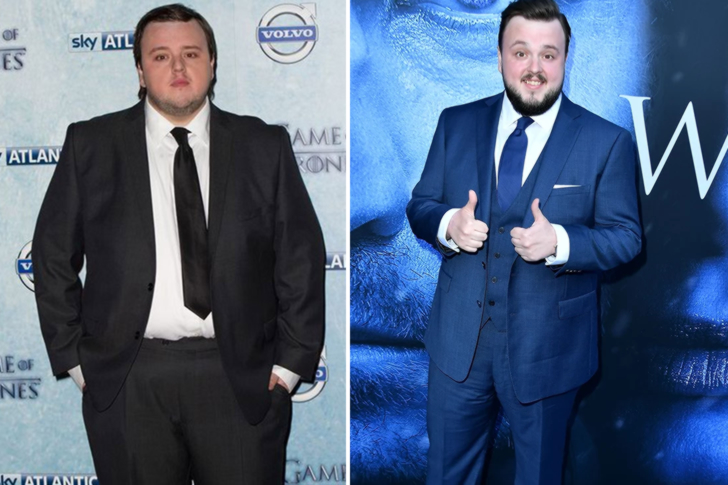 Actor John Bradley-West, who many will know for playing the role of Samwell Tarley in the highly successful HBO fantasy series Game of Thrones, shared that he's been ridiculed for being overweight for the better part of his life. But after the Game of Thrones series ended, he's come out on pictures more noticeably thinner. Unfortunately, we don't exactly know how he was able to do it, but we're speculating that it was through dieting since he was seen holding a PETA Vegan starter kit during a Morrissey event, which has led people to think that maybe he switched to vegan.
Well, if he did, then he's definitely making a great investment in his health. To his credit, he has already shed some pounds but he is still expected to play his role in the Game of Thrones as Samwell Tarley who is a stout one. He didn't end up like Jon Snow's body but definitely Samwell Tarly has lost some pounds as what the fans had already noticed.
KIRSTIE ALLEY – ORGANIC DIET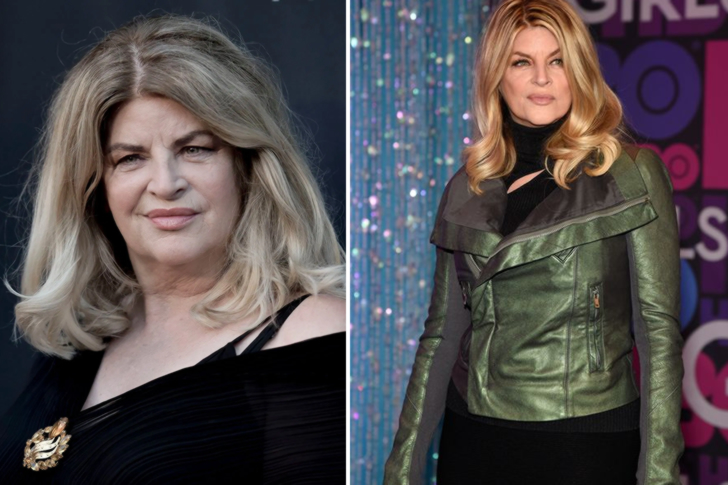 Actress and spokesmodel, Kirstie Alley, who gained wider prominence in the '80s for playing Saavik in the film Star Trek II: Wrath of Khan, is one celebrity who's had a roller coaster ride in the weight department throughout her career. She's lost it and gained it back again, only to lose it and then gain it back again. But the veteran actress, to her credit, has put her transformation on the headlines once again when she joined Dancing with the Stars in 2011 because she came out appearing much slimmer than ever.
Apparently, Alley lost 60 pounds before the show started filming, thanks to the grueling preparations she underwent for the show, and the help of weight management company Jenny Craig. Her fluctuating weight was always her concern. But after shedding some pounds, she has now maintained her beauty, and believes that whatever age you are in, if a woman follows a healthy lifestyle, she will look ravishing.
SUSAN BOYLE – NO SUGAR & WORKOUT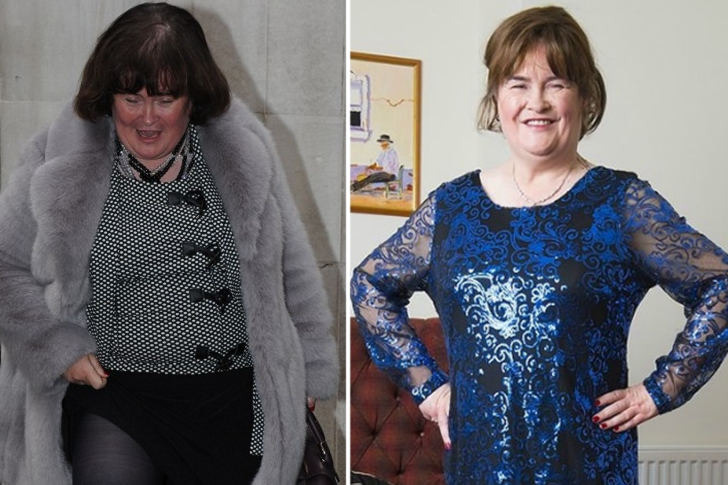 Singer and television personality, Susan Boyle, who gained widespread fame after appearing—and shocking people—on the show Britain's Got Talent for her awesome rendition of the song I Dreamed a Dream from Les Miserables, was reportedly able to lose a whopping 50 pounds by working out and completely quitting sugar. Apparently, it was her diabetes diagnosis in 2012 that pushed the singer to take the necessary steps to lose weight.
Although she didn't hit the gym, she shared that she took 2-mile daily walks and stopped eating sugar altogether. To her credit, she's looking the best she's ever been! She is now a renowned singer, has released 7 albums and with an estimated net worth of $35 million. We hope that she will maintain her weight so that she can do more for her career and record more wonderful songs in the future.
JORGE GARCIA – DIET & EXERCISE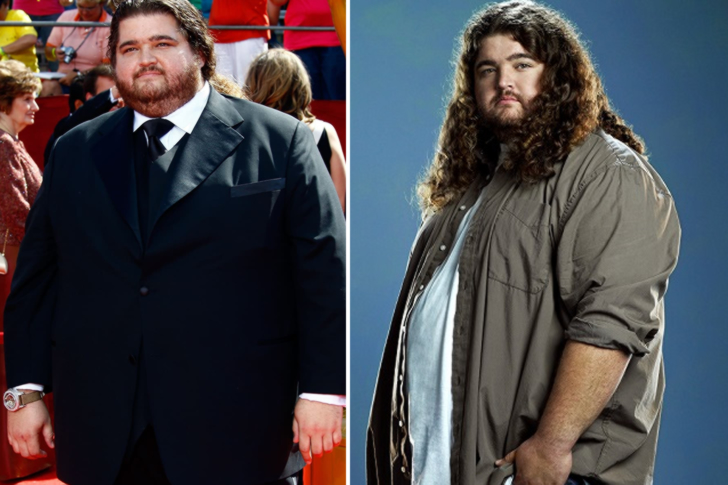 Actor and comedian, Jorge Garcia, who many might be familiar with for playing Hector Lopez on the television show Becker and Hugo Reyes in the other hit television series Lost, was reportedly 400 pounds before filming started for Lost. In 2017, however, he shared that he was able to lose 100 pounds. How was he able to do it? Well, he credits his going 100% vegan as one of the main reasons for his transformation.
Indeed, Garcia has been able to lose so much weight and has inspired many to transition to a plant-based diet to lose weight. Credits to him for keeping his healthy lifestyle on track in a natural way. The issue that he had gastric bypass surgery is denied by Garcia. He emphasized that he wasn't that desperate, and that he did a rigorous exercising routine and a healthy diet instead.
JONATHAN ANTOINE – WEIGHT WATCHERS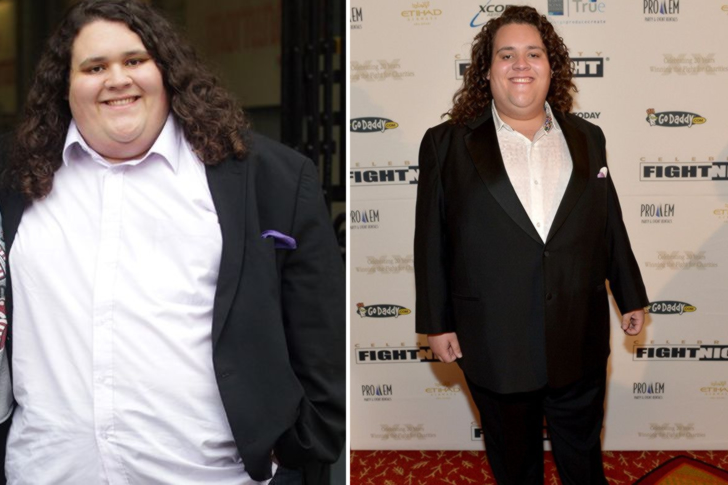 English tenor, Jonathan Antoine, who rose to prominence after competing in the sixth season of the hit talent competition show, Britain's Got Talent, shared in an interview that he was bullied as a kid because of his weight. It became so bad, according to Antoine, that he fell into a deep depression. After his global fame, however, he started feeling better about himself and found purpose in music.
He joined Weight Watchers in 2012 and, to his credit, lost 56 pounds after going through a strict diet and exercise regimen. Antoine still has a long way to go in terms of his weight, but he is definitely headed in the right direction. He never thought of an ideal size to maintain; he just wanted to be fit and healthy. To his credit, he was able to maintain his weight and concentrate on his career. He has somehow able to put his bullies behind him as he goes on his journey.
ANNE HEGERTY – REALITY SHOW CHALLENGE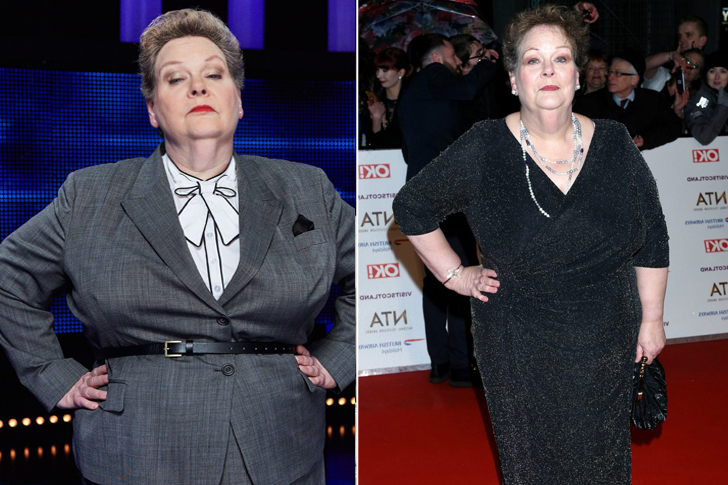 Anne Hegerty became a household name in the late 2000s when she became a "chaser" on the game show The Chase. The 61-year-old TV personality ranked 55th in the World Quizzing Championships in 2016. She's incredibly smart, indeed! But recently, Hegerty has had a dramatic weight loss and she gave the credits to the show, I'm a Celebrity… Get Me Out of Here. The hit show puts celebrities in an Australian jungle with rationing of food. Hegerty has Asperger's syndrome and the show has helped her control her diet and it turned out great for her as her blood sugar became normal.
Her weight loss journey started when she appeared in I'm a Celeb where they were out in the jungle with nothing to eat but diet rice and beans. This experience has enticed Hegerty to continue the crucial journey to weight loss which she claimed wasn't easy. But it took her a large investment to employ a Psychotherapist to prepare her for dating.
MARK LABBETT – REALITY SHOW CHALLENGE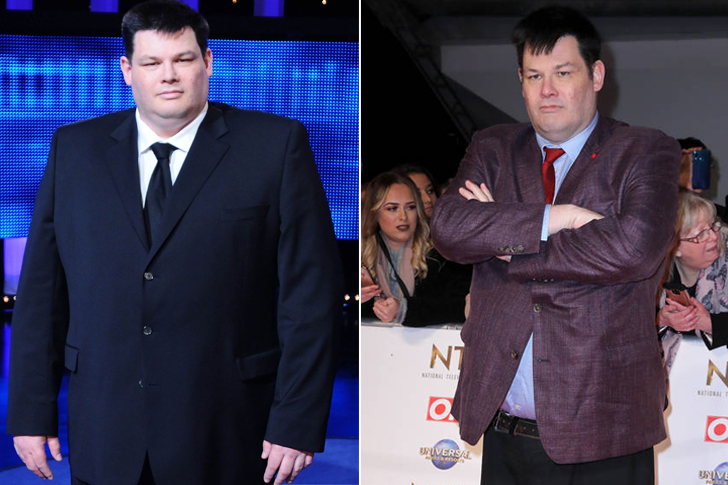 Mark Labbett is another cast member of the game show, The Chase. He also appeared as a contestant on many other quizzes shows and is actively participating in quizzing competitions. No wonder quizzing has become his interest since he used to be a math teacher and has a Master's degree in mathematics. Recently, he shocked the viewers with his massive weight loss.
He used to weigh 378 lbs. but what motivated him to shed some pounds? The answer is diabetes. After finding out his diagnosis, he started cutting out sugar on his diet and began exercising. He lost a total of 35 pounds. He didn't want to have diabetes that is why he started to keep his weight as stated by the Diabetic Society Weight Management Plan. If so, it will be a bigger investment on Labbett's part. He may need good insurance plan in case his endeavor fails.
GABOUREY SIDIBE – BARIATRIC SURGERY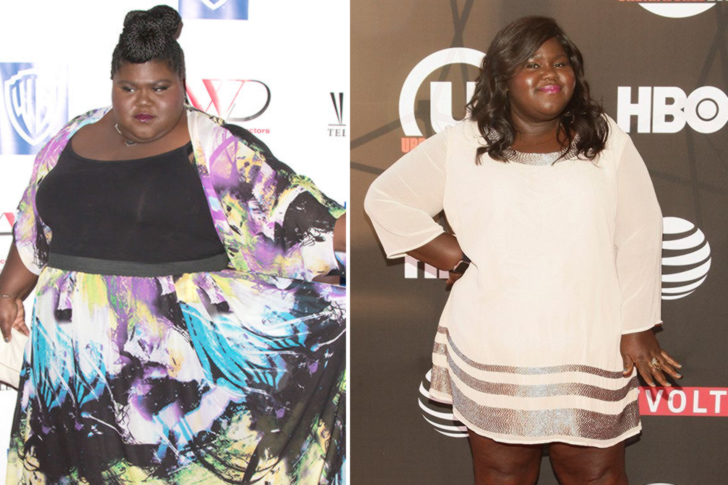 Actress Gabourey Sidibe, who rose to fame after her role in the film Precious, which garnered her a Golden Globe and an Academy Award nomination for Best Actress, reportedly turned to surgery to lose weight. The particular procedure she had done was called Laparoscopic Bariatric Surgery, and she decided to go through the drastic measure after being diagnosed with diabetes. Sidibe also committed to changing her lifestyle, and was said to have consulted a nutritionist to plan out her meals.
After losing 240lbs, Sidibe is now looking the best she's ever been. To be sure, there is still a long way to go for her, but she is clearly headed in the right direction. Like any other weight loss surgical procedure, it requires lots of money to make it happen. We hope that Sidibe has allotted money for this surgery or at least she has health insurance for that matter.
RIKISHI – FITNESS AND DIET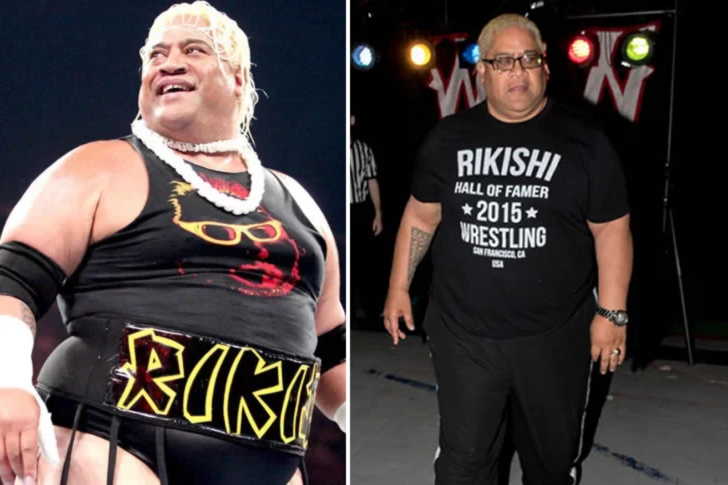 Professional wrestler, Rikishi, who was the one-time Intercontinental Champion of the World Wrestling Federation, was at one point billed as being 425 pounds. Granted, the WWE might have exaggerated his billed weight a bit, but what can't be denied is the fact that the man was extremely overweight. In fact, it was said that one of the reasons he was released from his contract from WWE was because he was too overweight. In any case, Rikishi has, to his credit, been able to slim down in recent years due to good ol' diet and exercise.
And the latest pictures of him online certainly show that he's much slimmer than he was a few years ago. But he must not grow complacent. He should maintain a healthy lifestyle through a healthy diet and constant exercise so that he wouldn't gain considerable weight once again.
MELISSA RAUCH – HEALTHY DIET, PLASTIC SURGERY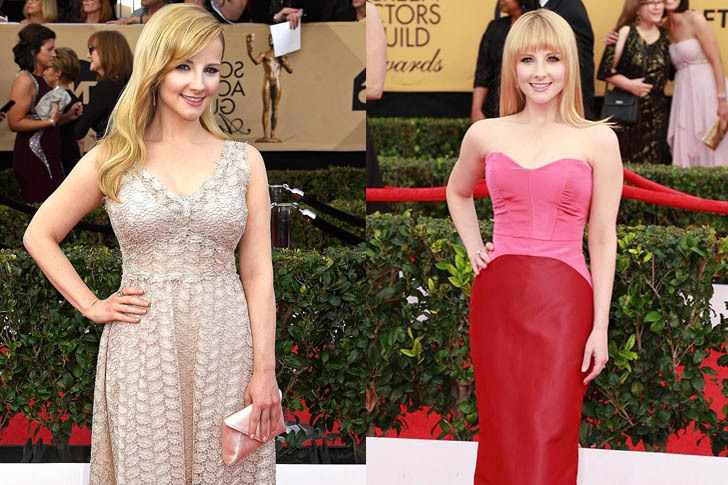 Although Melissa Rauch is far from being obese, fans used to see her on the chubbier side in her doll-like costumes on The Big Bang Theory. But she is a style expert in real life. After losing a few pounds and getting a breast reduction plastic surgery, Rauch now looks prettier, not to mention sexier. With the right personal loan, she managed to opt for elective surgery to correct her posture. She also coupled the procedure with a healthy diet to maintain her sexy physique. Her corrective surgery, alternatively, helps her to be slenderer.
Although people used to see her having a curvy body on the long-running TV sitcom, being always demurely covered, she showed what she truly got for a photoshoot on Maxim back then. She has an alluring body to boast already. Melissa Rauch should maintain her weight by adhering to a healthy diet and appropriate exercise for her because she cannot just do strenuous exercises considering that she already had several surgeries.
JAY SCOTT GREENSPAN – DIET & EXERCISE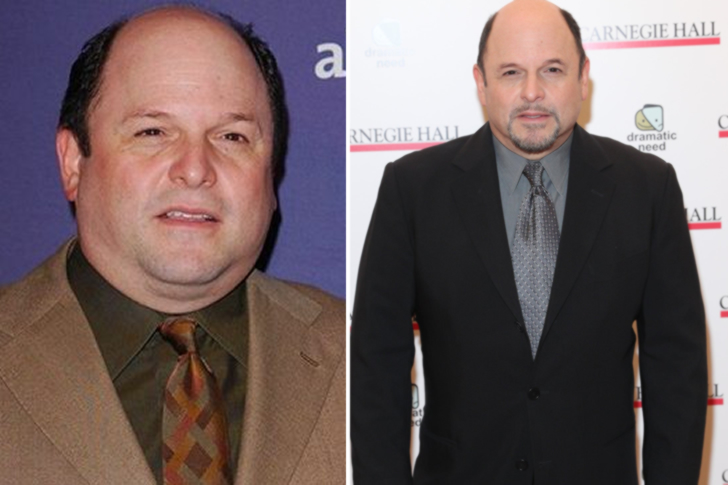 Actor, comedian and singer, Jay Scott Greenspan, who is more known by his stage name Jason Alexander, gained international stardom for playing George Costanza in the hit television sitcom Seinfeld. He was reportedly able to drop some serious amount of weight after adopting a strict, low-calorie diet. Indeed, he shared that he was able to lose 30 pounds, which is amazing! The celebrity comedian says all credit for his losing weight goes to Jenny Craig, the weight management company to the stars, who let him go through a very comprehensive weight loss program.
Like any other celebrity his age, it is a good thing that Jay Alexander recognized that he needed to tone down and shed some pounds in order not to have latent health problems. He adopted a well-balanced and low caloric diet. He knows that being overweight cannot escape the eyes of the fans and other people. Anyone can get away from anything except from being overweight, much worse being obese.
You've Reached The End